Slate Grey Range Cookers - The More the Merrier!
Dark grey seems to be the perfect finish for an increasing number of range cooker buyers and, picking up on this trend, two stylish brands are adding Slate Grey to their colour palette. We take a closer look…
When it comes to range cookers the choice of colour is a very subjective thing, and like many style-choices, tends to come a go with the times. At one time dark blue was all the rage, then green was the thing, followed by pastel shades. The traditional staples of cream, black or stainless steel are always there, of course, but these more transient colour-trends reflect the times. These days kitchens are all about surface finishes and the colour palette is fairly monochromatic - the perfect backdrop for a stunning focal point in slate and charcoal grey. A dark grey range cooker, often in a matt finish, works stunningly well and is a bold yet neutral style statement which allows any accent colours, whether on floor tiles, small appliances or tea towels, to do all the work and add nuances to the room without over-powering. Less prone to fashion than true colour, this is a finish that should age very well too, and look just as cool in ten years as it does now.
Although dark grey ranges have been around for a while, market-leading Aga Rangemaster popularised the trend with the introduction a couple of years ago of their matt Slate finish to their
Professional Deluxe
,
Excel
,
Nexus
and
Elise
collections, as well as their more premium Falcon ranges. Premium Italian brand
ILVE
and the amazing French brand
Lacanche
also feature lovely dark greys in their collections. The introduction of a Slate Grey by the popular and aspirational Italian manufacturer
Smeg
to their excellent
Smeg Victoria
range collection is very good news, and now another Italian brand,
DeLonghi
, are also making Slate available on their very attractive and superb value
Vintage 90DF Twin
.
Smeg Victoria
This impressive range cooker is available in 90, 100 and 110cm widths (ranging form under
£2000
to around
£2650
*) and offers an inspired balance of traditional character with fresh modernity. This retro combination is perfect for UK customers who love the Smeg brand and the quality and kudos it delivers. A solid feel is evident throughout, helped by triple-glazed doors and solid metal control knobs. Generously sized A-rated ovens with Smeg's Vapo-clean system and a choice of gas or induction hobs all add up to a highly convincing, appealing and special range series which has already had a great impact in the UK, but the addition of a gloss Slate Grey to the existing palette, which includes pale blue or pink in addition to cream, black and stainless steel, should prove a great move for this seasoned and highly regarded brand. At the moment the slate grey is available on the 110cm
TR4110 dual fuel
model ONLY, but will hopefully appear on more models in due course.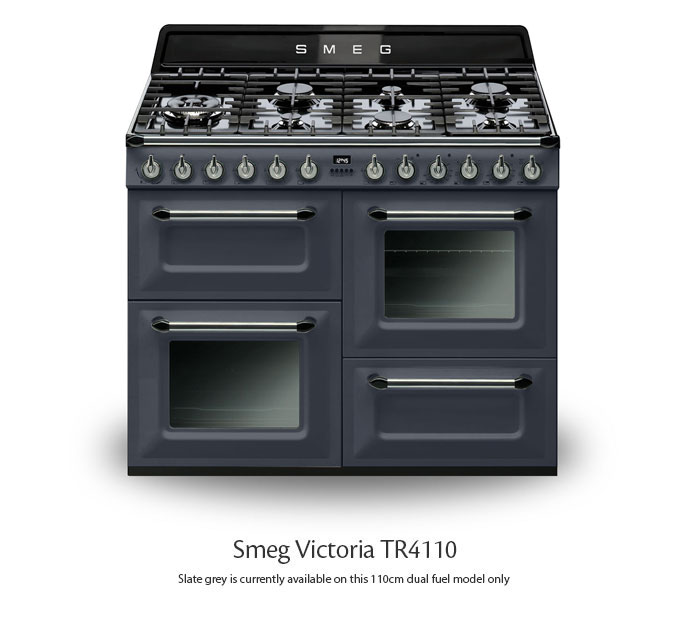 DeLonghi Vintage 90 Twin
DeLonghi is a brilliant brand with a great profile in the UK. Renowned for its small appliances as well as its larger ones, DeLonghi's range cookers are not only stylish and well-engineered but their shrewd pricing makes these range cookers available to a wide audience. At
£995
* the Vintage 90 gives you a large multifunction main oven with a second, conventional oven on the right, both with grill. Similarly to the Smeg but perhaps more subtle, this cooker has an appealingly retro look, with gentle bevels on the doors and nicely designed metalised plastic control knobs, complemented by soft-edged handles, towel rail and a rounded front edge on the hob. Available in dual fuel only, this is a great package at an amazingly good price. In adding Slate (a gloss finish) to their established colours of black, white and stainless steel DeLonghi have spotted and opportunity to bring a finish hitherto only found on more premium ranges to customers with similar taste but smaller budgets.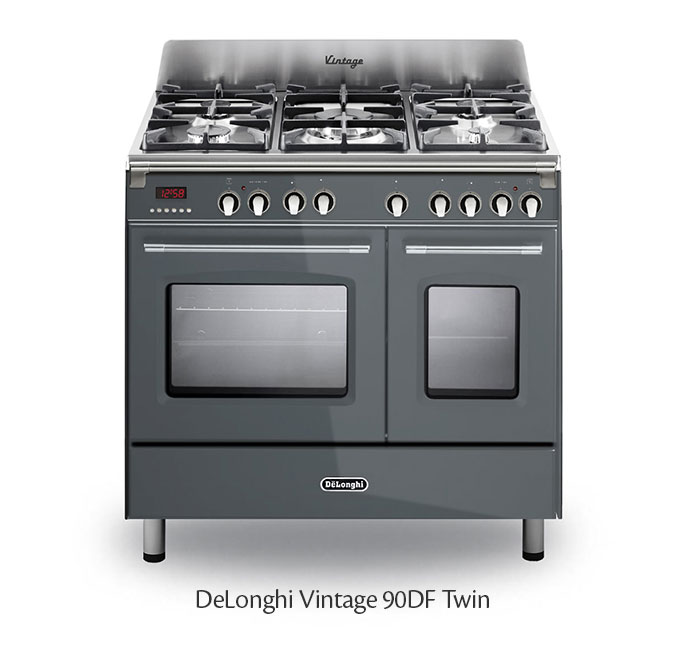 We think slate grey is the perfect choice for contemporary kitchens. More subtle than black, more sophisticated than stainless steel and more versatile as a contrast with colour accents, metallic finishes and appliances or beautiful timber kitchens. It is excellent to see more choice appearing for customers from two popular brands at different points of the market, both offering stunning-looking range cookers which combine clean contemporary looks with warmth and character. Slate is an ideal foil for this, and we expect to see both of these new Slate Grey range cookers doing very well.
*Prices as at Sept 2018