Seven Clever Kitchen Life Hacks
Are you a ninja in the kitchen? Can you fit 20 tins in one drawer and chop an apple in half with your bare hands? If you can then we applaud your skills!
Don't worry however if you can't or if you don't own two fridges, a pantry and more kitchen cupboards than you know what to do with – that's where life hacks come in.
The team at
Rangecookers.co.uk
have selected seven tried-and-tested life hacks to save you time and provide simple solutions to common frustrations.
After all - when it comes to making our lives easier in the kitchen, the less we have to do, the better right?
Organise your spice rack
If you have an overflowing spice cupboard then this one's for you. Get organised with these cleverly designed homemade magnetic spice jars. Learn how to make them yourself here:
http://davisongoons.blogspot.co.uk/2010/11/check-out-my-moves.html
Remove the excess fat
Nothing beats the winter chill like a hearty casserole or soup. However, if your dish contains a bit too much fat we suggest that you open up the freezer! Skim a few ice cubes, wrapped in a paper towel, along the surface of the liquid to help solidify the excess grease and make it easier to remove with a spoon.
Cook a roast in half the time
Cook a roast in half the time! Once you know how to set up your rotisserie, cooking is as easy as placing the meat on the shaft, turning the oven on, and getting back to the important stuff - sitting back to relax with family and friends.
Melt butter faster
Did you know that butter is great to grate? Reduce your baking time by using a cheese grater to shred cold (nearly frozen) butter. The fluffy flakes will quickly warm up, allowing you to crack on with other things – like eggs!
Remove pesticides from food
When preparing non-organic produce it's important to remove all traces of pesticides that coat the outside. Simply mix vinegar and water and rinse. That's right, you're only two ingredients away from healthier and cleaner food.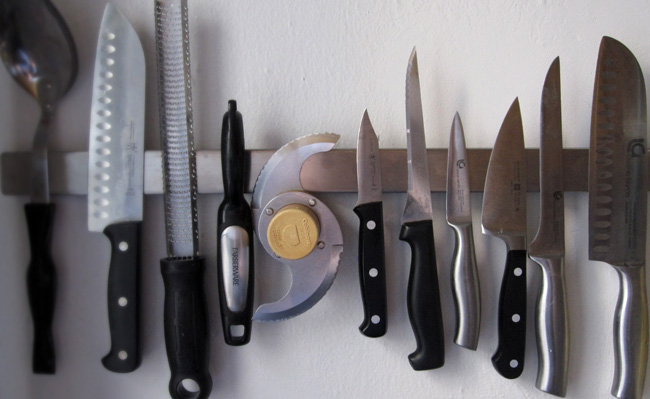 Declutter with magnets
Magnetic wall mounts are a great way to declutter. Securing your knife collection with a sleek magnetic strip not only looks good but saves on vital counter space when preparing meals too.
Rise to the occasion
Use the fanned oven on your Rangecooker (or select fanned on a multifunction oven) when baking to ensure even heat. The fan rotates air around the inside of the oven, ensuring that every part of your food is cooked quicker than usual thus saving money on your energy bills – and well, who doesn't want that?
Think you can beat us? Why not share your top kitchen hacking tips with us on Twitter, Facebook or Pinterest?