Replacing Your Aga - Some Suggestions
As range specialists we often hear from people who have developed a somewhat love-hate relationship with their old Aga. They love it for all of its homely character and old-world reliability, but have reached the point where the running costs have made it too much of a liability. Sticking with a range cooker is usually the preferred option, but changing to a conventional range will offer much more efficiency and convenience, and if you choose well you can retain the same homely traditional style which will work perfectly in your existing kitchen.
Rangemaster Elan - Bags of Character, Contemporary Formats
One range cooker which we frequently recommend is the
Rangemaster Elan
, currently priced between £1900 and £2400. Made by Aga-Rangemaster, the Elan employs styling cues which will be very familiar to Aga users - wire-wound door handles echoing those on Aga lids, plain and solid-looking doors with a characterful temperature gauge, a full-width chrome towel rain - and is available in 90cm and 110cm widths, with a choice of dual fuel models with gas hobs, or all electric models with sleek and powerful ceramic or induction hobs.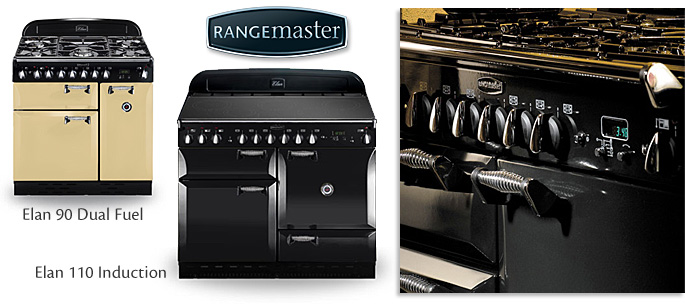 All
Rangemaster Elan
variants feature a large and versatile multifunction main oven, giving you a choice of fanned, conventional and grill settings (plus the famous swing-out Handyrack), plus a fanned second oven and a separate grill cavity featuring a rather nice glide-out grill tray. The Elan 110 also features a storage drawer. If you prefer to cook over a flame, then the Elan dual fuel models can include powerful 3.65kW main burners (two on the Elan 110), with gloss-enamelled cast iron pan supports, plus a cast wok stand and griddle plate. If you prefer the easy-clean appeal of a glass surface, then the Elan 90 or 110 Induction models will revolutionise your life, with five powerful and responsive cooking zones offering you ultra-modern convenience combined with Aga-like style. The Elan comes in six enamel finishes - traditional Cream or Gloss Black, plus a Racing Green, Cranberry, Olive Green or Royal Pearl (a delicate dove grey) - all with chrome detailing. A matching splashback and railed hood are also available.
The Redfyre Electric
One great alternative if you really love your Aga's cast iron persona is the
Redfyre Electric
, priced between £4000 and £4500. This handsome range cooker may look like an Aga, but beneath its solid exterior lies a very modern and efficient cooking machine. Redfyre is a brand now actually owned by Aga, and the Redfyre Electric is built at their foundry in Ireland, and at 100cm wide it may even slot straight into your existing gap. The ovens are controlled via a panel hidden behind the lower left door panel, which includes a switch for a special and unique feature called Warmfront, which emulates the Aga's always-on trait, giving you a gentle low-level warmth people will love, with the advantage of very low running cost (less than 2 pence an hour) and the ability to just switch it off!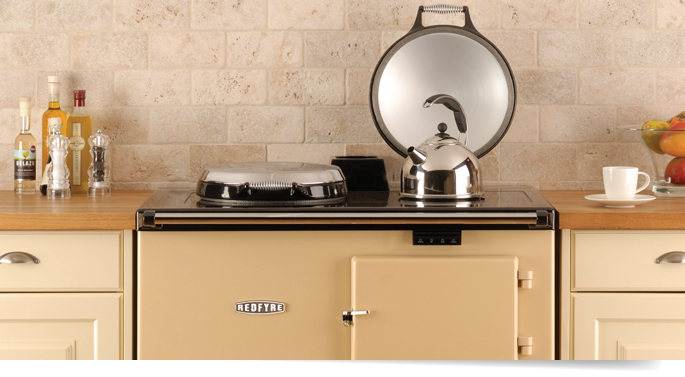 Efficient Modern Specification, Old-style Values
On top, there is a choice of round or square lids, which lift to reveal two large ceramic cooking zones, which you can specify with either very responsive Hi-lite infra red electric elements or as super-efficient and ultra-responsive induction, which is even quicker than gas! Both are controlled using discrete touch sensitive controls to keep things looking crisp and clean. Behind the slam-shut doors and simple catches the two ovens are both the same generous size, and the top cavity can be used as a fanned oven or conventional or fanned grill. The lower cavity is a conventional oven which can be used with top browning element or bottom element only, so you get a great range of cooking options available to you. Robust wire shelves and stainless steel runners are also featured. Colour-wise, you can choose from Black, County Cream, Royal Blue, Pewter, White or Aubergine, all with chrome detailing.
Other Options
There are, of course, many more modern range cookers with a traditional flavour, and many of these are made by Aga Rangemaster. If you would prefer windowed doors or an all gas cooker, the
Rangemaster Classic or Classic Deluxe
models are certainly worth considering, and if you fancy a French feel, the
Rangemaster Elise
is a great choice. Of equal merit from an alternative British manufacturer is the
Stoves Richmond
, which is available in 90cm, 100cm and 110cm widths and a variety of fuels, including all gas ranges.
Moving away from Aga may seem like a wrench, but you can still end up owning a range cooker to be proud of, with lovely build quality and perhaps higher levels of convenience. If you need more help talking through the options, just give the Rangecookers.co.uk team a call on 01244 402975.
to browse all ranges on our website