Lacanche Belmont features on Raymond Blanc BBC2 Show
Ardent foodies and keen range-spotters (I confess I am one) may well be following the current series on BBC2,
Raymond Blanc - How to Cook Well
, and if so will have noted the particularly nice Lacanche range cooker in the background, being used much as its Burgundy-based makers intended - to create amazing food with minimal fuss and maximum pleasure.
The 180cm Lacanche Belmont is not a cynical product placement but a well-loved asset of
Le Manoir aux Quat'Saisons
, and when not being used for filming is apparently used to support Raymond's main restaurant and the private dining room at Le Manoir, in Oxfordshire - a truly wonderful place for a special dining experience.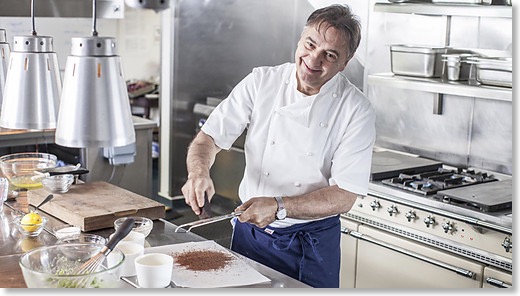 Image ©BBC
Raymond Blanc's Lacanche
The cooker in question is a
Lacanche Belmont
in English Cream and chrome, a 180cm serious cooking machine with a choice of hob and oven configurations to suit individual needs. As you can imagine, Raymond Blanc knows exactly what he needs, and we have it on the best authority that his Belmont features one 73 litre convection (fanned) oven with grill (now available as a switchable dual function oven), one 73 litre conventional electric oven with grill, and a tall simmer oven. On top Raymond has specified the Traditional 3 burner hob as his starting-point, which offers a large simmer plate plus two gas burners to the left, and added modular gas elements to the left and right of this (with an additional sit-on simmer plate), plus two induction zones on the far right. Two large storage drawers are also featured.
Other hob options include the Classic hob - a large 5kW wok burner with two smaller burners - a four element ceramic hob, or a three zone induction hob, alongside which you can add the extra modular elements - an electric Plancha or fryer plate, a deep fat fryer, a gas barbecue grill and a Multi-cooker, which is great for steaming, pasta boiling or as a Bain Marie. Oven choices include a powerful 4kW gas oven, and with 22 deep lustre enamel colours and four trim finishes available there is every opportunity to build and enjoy your dream cooker.
True Professional Credentials
Raymond Blanc is not alone in being a professional chef who loves the power, scope and overall integrity of a Lacanche range cooker. These appliances are hand-built to perform impeccably in demanding conditions, and the beautiful appearance enhances what is a proper professional cooking platform which, in a more commercial guise, inhabits some of the world's best gastronomic kitchens.
Specify Your Own Dream Cooker
Lacanche range cookers are available in 70, 90, 100, 110, 140, 150, 180 and 220cm widths, so you should be able to find one to fit into your kitchen even if you have not got the luxury of space that Monsieur Blanc enjoys. If you have missed the programme it is definitely worth catching up, and Raymond's friendly, accessible and very professional style makes for very compelling viewing, as does the food and, for admirers of the Lacanche brand, the impressive cooker in the background.
to see our Lacanche collection. Other models are available, including the Belmont (call for details)
Raymond Blanc - How to Cook Well
is broadcast 8pm on BBC2, or anytime via iPlayer or the
BBC Website
.
Poaching
- 16 July 2013
Roasting
- 23 July
Baking
- 30 July
Frying
- 6 August
BBQ & Grill
- 13 August