Rangemaster Professional Plus 100 in Mains Gas or LPG
Rangemaster have launched an all gas version of their Professional Plus 100, previously available only as dual fuel or an all-electric induction model. This gives Rangemaster customers a choice of three 100cm gas models - a nice entry-level Kitchener 100, a very traditional Classic 100 and now the very contemporary Professional Plus 100, all of which will convert to LPG.
Rangemaster 100cm Gas Cookers
Gas ranges, although somewhat scarcer than the more popular dual fuel formats, are still the preferred option for many UK cooks who either prefer cooking with gas or have limited electrical power available in their kitchens. Although market-leading brand Rangemaster were a little late to the party with 100cm ranges, having traditionally produced 90cm and 110cm ranges up to a few years ago when they introduced a brand new 100cm platform, they have since been cautiously rolling the new platform out according to consumer demand. The new Professional Plus 100 Gas model is a sensible addition, and a sign that Rangemaster recognises that not everybody who loves cooking with gas has a country-style kitchen!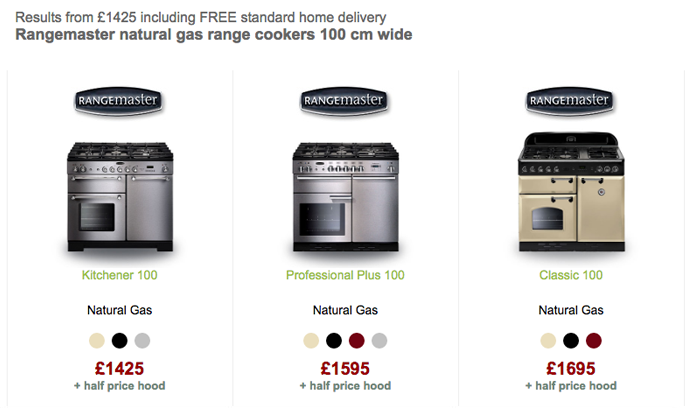 A quick search on our retail website shows that Rangemaster now offer three all-gas 100cm models (prices and promo as at September 2016)
100cm LPG Gas Ranges - Rangemaster to the Rescue
The market for LPG is very small and shrinking, so the realities of manufacturing mean that the options for people who want and all gas cooker for LPG have diminished in recent years. Rangemaster appreciate this, and have thoughtfully designed their 100cm gas models to be
convertible to LPG
- very unusual for gas cookers. Almost all
dual fuel
ranges will convert to LPG, but this is not true of dedicated gas models unfortunately. Rangemaster's 100cm gas models will arrive built for natural gas, with a conversion kit to allow your engineer to carry out the conversion to LPG.
For ALL 100cm LPG range options take a look at our website
HERE
.
The Professional Plus 100's contemporary looks can work equally well in a classic or traditional kitchen
Specification
In common with the other 100cm gas models, the Professional Plus gives you a very generous programmable (timed-to-off) 61 litre main gas oven with their removable Handyrack for safe and easy basting, and self-clean oven linings. The controls for the programmer are simple to use, with a function dial rather than a baffling array of buttons. The oven cavity is dimensionally the same as for the electric models (which give you 73 litres), but in gas ovens the shelves do not go back as far, hence the lower usable volume. Above this is a dedicated gas grill with a glide-out grill tray (the "Plus" part of the spec), and on the right is a very roomy 82 litre fanned electric oven. This sometimes surprises people, but having a fanned electric oven can be a useful thing when it comes to batch baking, for example, and the fact is that this is the only way to effectively heat a tall cavity. Thankfully it all works from a normal 13 amp plug so there is nothing to worry about on that front. The tall oven includes four shelves and a plate warming rack, and is wide enough to take a standard oven tray. On top are five gas burners, with a powerful 3.5kW wok burner on the right. A seamless single-pressing enamelled hotplate is topped with sturdy but elegant cast iron pan supports with a matt enamel finish.
Colours
In addition to Stainless Steel you can choose from Gloss Black, Cream or Cranberry, all with chrome trim and a black enamelled hotplate. Matching chimney hoods are available in each colour.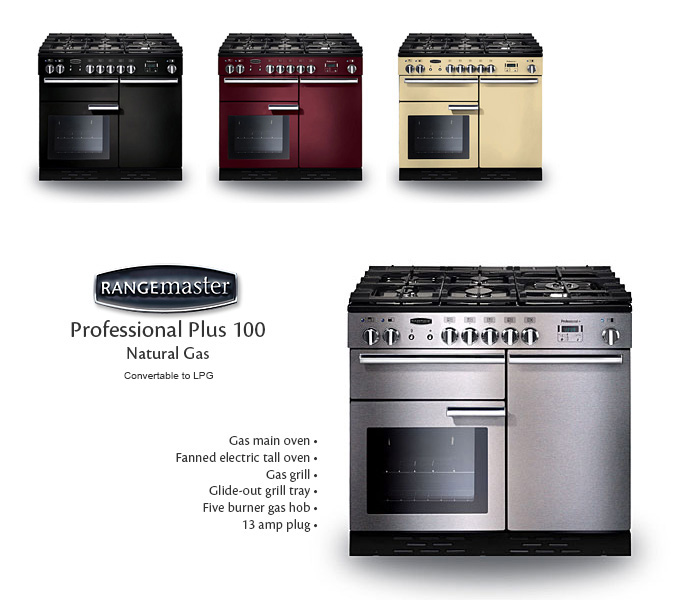 It is great to see Rangemaster catering to the keen market for gas ranges with this attractive addition to their line-up. Home bakers still love the moist cooking environment that gas gives, and there are plenty of people out there with a 100cm gap in their kitchen which the Professional Plus 100 will fill very nicely. Its bold, modern look is perfect for contemporary kitchens, and its mid-range price should make it the ideal choice whether you use mains or bottled gas.