Rangemaster Packaging - Optimum Strength and Efficiency
When you order a Rangemaster from Rangecookers.co.uk you can feel confident that the whole process will be handled with professionalism, from our superb and knowledgeable admin team through to Rangemaster's highly trained delivery crew. An important part of the process is the effort Rangemaster have put into the product packaging, which ensures that your new range cooker is as safe as possible as soon as it leaves the production line and begins the journey to your home.
Packaging of a large and heavy appliance needs to strike a balance between cost, strength and quality, and the designers at Aga Rangemaster have made an excellent job of getting this right. Every cooker is actually built already sitting in its cardboard and polystyrene bottom tray, and when complete and inspected further thick polystyrene end, top and centre panels are braced with heavy cardboard struts to add some impressive recyclable rigidity, and a cardboard lid adds a further layer of protection, together with the branding and necessary pictogram graphics.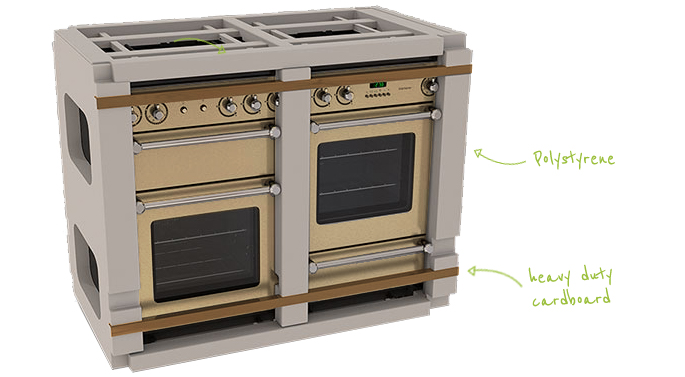 The whole assembly is then shrink-wrapped with heavy plastic which allows for visual checking of the product. Finally, sensible labelling is added which includes the model, fuel and colour (rather than simply a product code) so that checks can easily be made from the point of dispatch through to the two-man delivery team and the customer. Once the cooker has been delivered it is unpacked and checked by both the delivery team and the customer before being signed for, and then all packaging is taken away by the crew for responsible recycling or disposal.
Shipping Abroad
Should you be planning to take your new Rangemaster overseas, you may need to consider getting it crated-up properly by your courier company. Although more than adequate for domestic deliveries, the standard packaging may not be up to the unknown rigours of a further journey!
Nobody wants to receive a damaged cooker, especially when it has been built to order and waited for patiently for 3 or 4 weeks. Rangemaster obviously understand this, and clearly do not want the additional cost involved in sorting out transit-damaged goods, so the effort they put into product packaging should ensure that every customer receives their long-awaited lovely new range in perfect condition.
to see the full Rangemaster collection