Rangecookers.co.uk Welcomes ILVE Range Cookers
Rangecookers.co.uk are delighted to announce the addition of
ILVE cookers
(pronounced "ILL-VAY") to our online range collection. An excellent Italian manufacturer, ILVE range cookers are internationally renowned for their unusually high quality and cooking integrity, their tasteful appearance and the breadth of choice available.
Passionate cooks often demand the best when it comes to the equipment they use, and ILVE have catered to this need for over 60 years. A brand recognised all over the world, ILVE can offer a bespoke service which makes the best of their well-honed production system, whereby each cooker is assembled by a single individual in ILVE's state-of-the-art factory near Venice. The result is a cooker built to last, and to satisfy the needs of demanding families or home chefs looking for a reassuringly solid, reliable and visually attractive cooking platform which offers a more than a little finesse.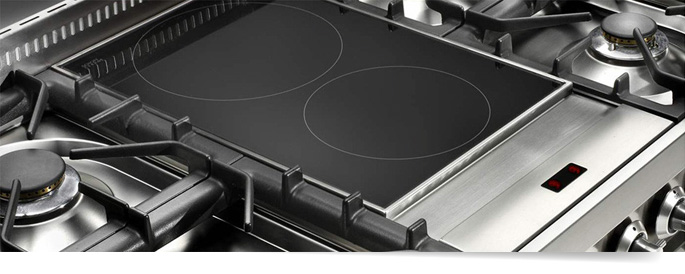 On some models you can specify an induction area which will also accommodate ILVE's Fry Top feature
Styles Overview
There are four style variants in the ILVE range: the entry-level Ultimo, and the mid-range Moderna, then stepping up to the bespoke Roma series, which is also available with solid doors as the Roma SD, and the more traditional-looking and also bespoke Milano. As may be expected of a brand where cooking is king, all models share the same cooking functions and specifications, with cost savings made on the Ultimo by using double-glazed doors rather than triple-glazed, and by omitting stay-clean oven liners and costly storage drawers (a flap door is used instead). Similarly with the Moderna, except that triple glazing is retained, making it a very popular choice.
Style variations left to right: Ultimo, Moderna, Roma, Roma SD, Roma XG and Milano. Various hob options are available.
Formats
All models feature electric ovens, with a choice of gas, ceramic and induction hobs. Sizes vary from single and twin cavity
60
,
70
and
90cm
models through twin
100cm
,
120cm
and even
150cm
, with 100 and 110cm "XG" models offering the benefit of an extra grill compartment - popular with UK consumers who often prefer a separate grill.
Versatile Hobs
One very special aspect of ILVE range cookers is the opportunity it offers on the bespoke Roma and Milano models to customise the gas hob according to your needs. Whether you want straightforward gas burners, or a combination of these plus a superb stainless steel Fry Top, a professional style Simmer Plate (excellent for sauces etc.), a deep fat fryer, barbecue griddle or even an induction Fry Top, the choice is yours. The gas Fry Top is a popular choice, offering a brilliant teppanyaki-style cooking surface which is great for cooking healthy meat, fish and stir-fries, or less healthy full English breakfasts, or for drop scones and pancakes. When not in use it becomes a useful standing or warming area, or will convert to a fish kettle burner when occasion demands. On electric models there are SIX of the latest generation induction zones on offer, or a five burner ceramic hob if you prefer. It is also worth noting that the gas burners themselves are of particularly high quality, with solid brass gas rings, and the triple-ring 5kW wok burner will become a very good friend when it comes to rapid boiling, let alone wok cooking.
The ILVE Milano adds some tastefully rendered heritage style, and is available in 60, 70, 90, 100, 110, 120 and 150cm widths
Ovens
ILVE ovens are always electric, and highly efficient due in part to being triple-glazed (except Ultimo), which also makes them quiet-running. All are A-rated, with nine function multifunction main ovens offering cooks a useful variety of settings, as well as a very handy quick start function, which uses all of the oven's elements to get things going when you need it. The second oven is a four-function non-fanned cavity which also includes a rotisserie (a great asset for poultry and game lovers). Both of these ovens will include a grill, and on Roma and Milano models self-clean wall and roof liners are standard, with a roof liner included on the mid-range Moderna.
Whichever ILVE range cooker you decide on, there is a very particular satisfaction in using such a well-engineered cooking machine which will reward you every time you turn a solid metal control or open a nicely-weighted oven door on its top-quality hinges. Prices start at £2130* for the Ultimo, with Moderna models between £2350 and £2900, and bespoke Roma and Milano models from £2600 to £4750 for sub-110cm sizes, up to £8500 for a 150cm model. If you love to cook you will come to love your ILVE as many around the world already have, and your investment should prove most worthwhile.
to see the full ILVE range collection
*Prices correct as of January 2014