Range Cooker Trim Choices - the Finishing Touch!
So you've chosen your cooker, you know the size and type you need, you've picked out your colour – but what about the trim?
Although the most common choice of trim these days is chrome, there are other options that you might not be aware of. This may also inform your choice of cooker, as the some trims are only available on certain models, but chances are if you love the warmth of brass trim you will also like the ranges which offer it. Take a look below, and call our team on
01244 402975
to discuss your options.
The excellent Ascot range from premium Italian brand Steel offers four stunning finishes
Chrome
There is a very good reason this is the standard trim on most cookers – it goes with everything! Its impressive shine will return every time you clean it, it pairs very well with the majority of colours and it will tie in well with any other chrome or stainless steel detail you have in your kitchen. A safe choice for an enduring modern look.
Bar far the most popular choice, chrome is very suited to most colours and very in line with modern tastes
Brass
A luxurious choice, available on a selection of premium brands, such as
ILVE
and
Lacanche
– as well as on Rangemaster's fabulous
Classic Deluxe
models. This trim choice brings out the warmth in lush colours and is great when matched with Racing Green, Cranberry Red and Gloss Black. Brass trims are usually a lacquered, plated finishes, but Lacanche use solid natural brass which will tarnish agreeably with use but polish up beautifully should you prefer to retain the glamorous look.
Copper
If you're looking for a homely-coloured
Lacanche
, copper is the trim for you. Copper in very in-vogue at the moment, and the style magazines are full of matching pots, pans, kettles and accessories to make this traditional finish work throughout your kitchen. A lacquered finish, the high shine on this metal will not dull and will continue to dazzle you and your guests. A delicate colour for delicate hues like pink or teal, and stunning with white.
Copper-plating is challenging, but Lacanche now offer it alongside five other trim finishes
Brushed Stainless and Brushed Chrome
Brushed stainless steel is seen on range cookers across many brands and is a pleasing utilitarian satin finish which works well as a contrast to many colours. Lacanche also offer a variation which is somewhere between this and chrome - a brighter more reflective finish with a brushed effect to soften it, so if the high shine of a standard chrome trim is not to your taste, why not consider this rather more subtle and subdued alternative – great with powder blues, greys, white, or any cheery more contemporary colour.
With a soft and clean look, brushed steel is a lovely choice for softer colours
Nickel
Often confused with a standard chrome trim, this shiny trim choice has a slightly yellowish tinge but this subtle tonal nuance can add warmth and make all the difference when paired with certain colours. This delicate finish looks beautiful with soft tones, such as Lacanche's Frangipane, Ivory or Light Olive.
To try out the various finishes against the 30 colours Lacanche offer, have a play with our colour & trim visualiser tool HERE
Antique Bronze
This is a trim unique to Italian premium brand
ILVE
, and one that has the unusual finish of a tarnished antique. A very nostalgic heritage look and well-suited to the country kitchen - pair this with Cream or Anthracite or a traditional blue, green or burgundy and you will have a truly stunning range.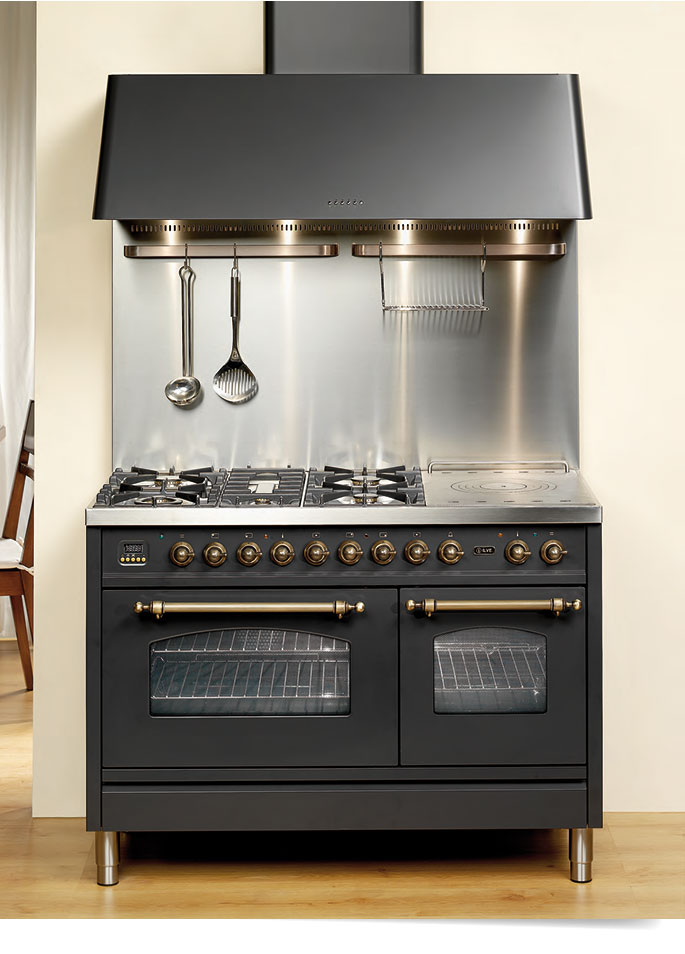 Antique Bronze can add lots of character to your cooker, as seen on this ILVE Milano 120 in Anthracite
We love trying new mixtures of colours and trims and we're sure you will too! If you need some inspiration, why not ring our showroom and chat with one of our specialists? They're full of ideas, and if you are in the Chester area we even have a good selection of trim samples you can try out in combination with colour swatches to help make the decision a confident one. Your range cooker will be a great centre-piece for the kitchen, and the right choice could make the difference between something pretty standard and something truly stunning.