The Oxford Range from Steel Cucine - Stunning Style, Quality and Value
Steel Cucine have launched a second cost-saving range series aimed at making their premium cookers more available to those with discerning tastes but perhaps less to spend. The new Steel Oxford range is a stunning blend of both contemporary and traditional styling, and the all the quality and attention to detail Steel is renowned for.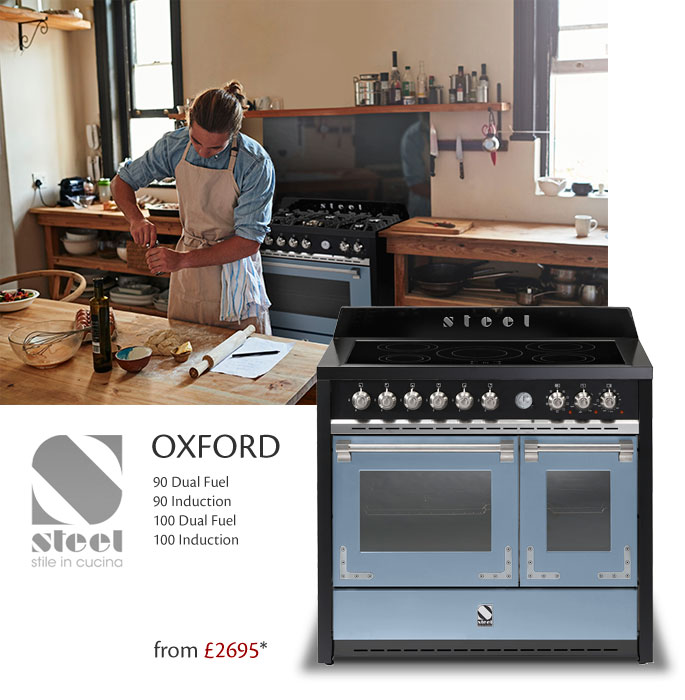 Steel Cucine - An Artisan Outlook
A long-established name in cooking, Steel has actually been around since 1922, and is now a third generation family-run business. Their low profile in the UK is growing apace as people begin to understand how exceptional this very focused and highly competent manufacturer actually is. Their very modern but modestly sized factory in Carpi, northern Italy, is a happy sort of place which turns high-grade stainless steel and well-considered components into the sort of cookers and other kitchen equipment that passionate cooks dream about. If you like you can have your whole kitchen furnished with their stunning modular furniture, designed to match the stylish lines of their range cookers, hoods and refrigerators. You will need deep pockets, of course, but the end result will be the envy of all who see it. If your pockets are not as deep as your desire for one of their lovely ranges then there is some good news in the form of some new products designed to make this world renowned brand a little more accessible.
The
Steel Oxford 90
and
Oxford 100
are built on the same platform as Steel's pricier Genesi and Ascot series, using the same engineering prowess and the same quality of materials and components. Like its more modern-looking stablemate the
Steel Enfasi
, the Oxford has been cleverly designed to take out some of the costlier features but without compromising the cooking capabilities or the premium feel. This makes the price of an Oxford range around 77% that of the flagship Ascot models, with an average saving of around
£1045
!
Stunning Quality, Less Cost
Steel have achieved this impressive feat by simplifying the construction, so rather than a hotplate and control panels fabricated from one seamless sheet of steel they have used a more conventional sit-on hotplate, and rather than triple-glazed glass doors the Oxford series has double-glazed, whilst still being A-rated for energy efficiency. The control panel features the same solid metal knobs used on the Ascot series, and there is an attractive analogue clock which gives you full electronic control of the oven programmer. In the ovens you still get a rotisserie feature, but the telescopic runners are replaced by standard shelves. On dual fuel
Oxford 90 (X9F-6)
and
Oxford 100 (X10FF-6)
models the six burner configuration includes one solid brass double ring wok burner as opposed to two. If you prefer you can choose the all-electric
Oxford 90 Induction (X9F-6I)
or
Oxford 100 Induction (X10FF-6I)
which feature a five zone induction hob and will deliver all the cooking power and control you could wish for, without the cleaning pitfalls of a gas hob. Below, the glide-out storage drawer has been changed to a storage compartment with a drop-down flap door. All oven functions and sizes remain the same, giving you a host of alternatives to straightforward fanned cooking for perfect results to those special dishes or lazy pizzas.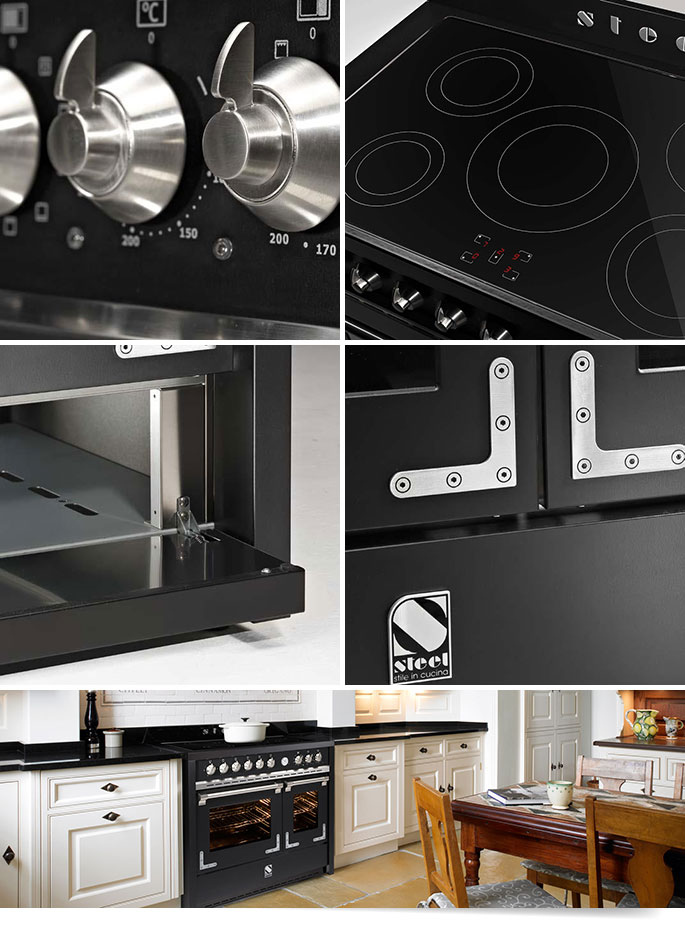 Distinctly Stylish
It is not very often that something a little different comes onto the range cooker market, but we are rather excited about the new Steel Oxford range. If you are setting out to achieve a retro look which bridges traditional and contemporary tastes then you need to get the balance right, and we think the designers at Steel Cucine have made a very nice job of it. By borrowing the colours and control knobs and chunky handles from their more heritage style Ascot series, along with some high quality door trims, and applying them to the Oxford's more upbeat facia, together with a two-tone paint scheme, they have managed to present a highly appealing cooker which makes a statement and can work beautifully in either setting. Although there is a rear upstand behind the enamelled hotplate this is purely decorative, and can be removed if you prefer. We love the reassuringly traditional tactile elements and the circular dial of the clock, and even the door trim plates with their nice stainless screw-heads add a certain traditional reference which helps give the Oxford a certain ironic gravitas. When it comes to colour, whether you play safe with the traditional shades or go for one of the lovely Le Creuset-inspired colours the effect is rather good, with the satin black providing a chunky frame to the more recessed door area and control panel which allows you to enjoy the colour contrast, unless of course you opt for the handsome all-black look, but even then the gloss of the doors provides a subtle and pleasing contrast to the satin.
As well as a matching
extractor hood
- a high performance and stunningly good product in matching colours - there are some nice accessories available to enhance your Oxford range. A pizza stone to improve the taste experience of pizza and anything dough-based, telescopic oven shelves, taller feet with a higher plinth kit, and a choice of smooth or ribbed griddle plates. You also have Steel's superb refrigeration products, again in matching colours, as well as their amazing modular kitchen furniture. All this comes with their full two year warranty, backed up by the experienced UK distributor's network of engineers should the need ever arise. Be assured, though, that Steel have been around in the UK for a good few years now and are known to be one of the most reliable brands on the market.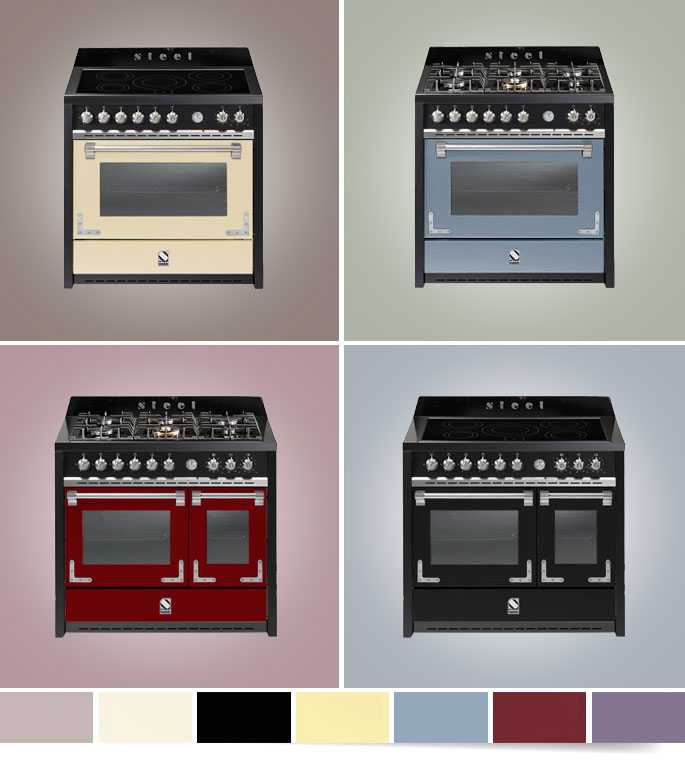 The Steel Oxford series is an inspired formula which adds up to a stunning range cooker for a modern cook with an eye for style. Steel Cucine is a globally renowned brand with the skills and capability others look to with envy, and the Oxford's sensible pricing is designed to open up the opportunities for more UK consumers to engage with the brand. That said, these cookers are not what you might call cheap, but the likely customer will recognise the reasons why once they begin to feel and use their range to do what Steel, a company based in the heart of Italy's food-famous Emilio Romana region, have designed it to do - to make every meal a pleasure from beginning to end.

*Prices as at April 2017