Order Now and SAVE with our Insanely Generous Pack Promotion!
Our incredible June promotion means you can save a fortune by ordering your range and getting not only a FREE splashback worth up to £155, but a £100 discount on ANY extractor hood.
This June you can take advantage of either the hood or splashback promo, or both - it seems foolish not to!
One of the benefits of putting a range cooker in your kitchen is that is becomes a real focal point, drawing the eye and enhancing the functionality of the space whilst bringing with it a definitive style. For some this is purely incidental, but if you are considering a range cooker partly to make a statement and provide something of a "wow" factor then chances are you will be also be looking to add a matching extractor hood and even a splashback to make the look complete.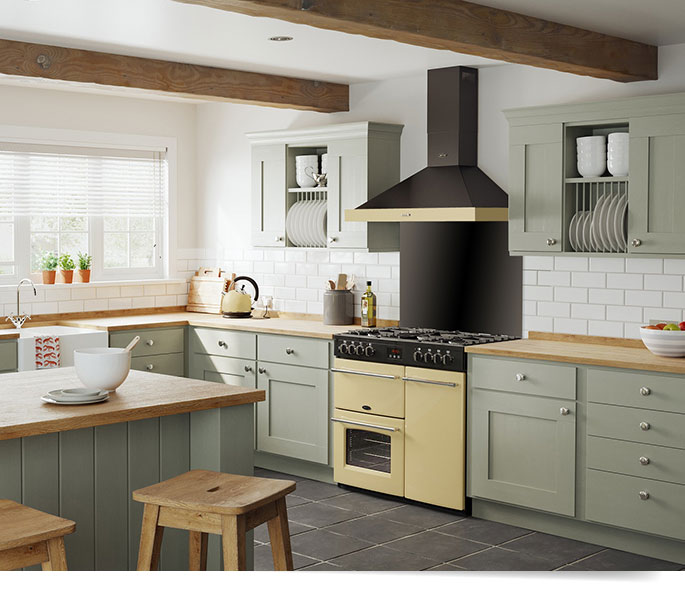 This Belling Farmhouse 90 setup looks stunning with matching hood and splashback
Get the Complete Range Look - Add a Splashback!
A splashbacks not only works well as a visual connection between cooker and hood, it also provides a practical back-drop to your hob-top activities - a durable wipe-clean surface to shrug off all the splashes, splatters and steam. Our in-house Rangecookers brand has developed a great reputation for quality and value, and the free
Select Splashbacks
come in stainless steel or satin black have been designed to beautifully complement any range and hood combination. Available in 70, 90, 100 and 110cm widths, they are 75cm high and simply screw to the wall through hidden flanges - all very neat and easy, and the perfect way to give your range cooker installation the impact it deserves.
Create a real centrepiece by going for the full set - order NOW and save up to £255!
Take Advantage of Our Generosity and ORDER NOW
We at Rangecookers.co.uk love this "complete set" approach. Practicalities aside, it maximises the visual presence of a range cooker and clearly defines the space where all the culinary magic happens. To make achieving this easier, we have always included a discount on any hood purchased with any range, but our current enthusiasm means that you will save a very healthy £100 on your chosen hood! Not only that, but throughout June 2017 we are giving away a FREE splashback (while our stocks last) with every range too, so you can get that impressive range setup without worrying about the extra cost! This amazing promotion is giving our accounts department some sleepless nights and consequently cannot last for long, so why not be one of the lucky few and take advantage NOW?
The mix and match approach works superbly well with this Belling Cookcentre 90 pack and granite worktops
Confused about Hoods?
You can match ANY hood with your range, and if you are not worried about pairing with the same brand we also suggest you do what so many of our customers do and consider our
Select Hood collection
. Well-made, stylish and straightforward extraction with great performance and sensible prices, along with a full two year warranty. The choice is yours, though, and we are happy to talk you through the options. Just call our team on
01244 402975
from 8:30am to 5pm, Monday to Friday.
This is an unusually compelling promotion, and we do urge you to take advantage of it while you can, even if you do not need your range for a little while. You can easily defer delivery until you are ready. The hood discount is applied when you place your order, but to claim your FREE splashback you will need to let us know once you have received your range by sending us the Claim Form, which you can download by clicking the image below or via the product page when you order.