New World Vision Range Cookers Arrive in Style!
New World have launched a new collection of range cookers with a fresh and exciting new look designed to appeal to younger home cooks and customers looking for a great value, sturdily built cooker from a trusted family brand.
The New World "Vision" collection comes from the same stable as its close cousins the Stoves Sterling and Belling DB4, sharing the same chassis and structure, and rolling off the same UK production lines. This level of tried and trusted quality is a great underpinning for the New World product range, and gives these cookers a very confident edge, but some clever cost savings keep the prices low without sacrificing build quality.
Click image to see full product range
With a sharp and contemporary look, the doors are of glass construction, framed with steel cladding in a choice of three finishes - Black, Red or Stainless Steel - with sleekly curved door handles in black to match the rear-printed door glass. On the colour-matched control panel are chrome-finish control knobs and a digital clock/minute-minder, with a separate ignition button for the gas burners.
Choice of Four Hobs
Available in 90cm and 100cm widths, you can choose either a dual fuel, gas or all electric format. The dual fuel and gas models feature a seven burner gas hob on the Vision 100, with a five burner hob on the Vision 90, all with cast iron pan supports in a matt finish and a single-pressing enamelled hotplate. Electric models give you choice of a five zone ceramic hob, with an additional warming zone on the Vision 100E, or induction models with a four zone hob on the Vision 90Ei, and five zones on the 100Ei. This is an excellent move by New World, bringing customers the power, speed and convenience of induction cooking at a more affordable price. Induction models also feature a touch control system on the hob itself, meaning fewer knobs on the control panel, and don't worry about your power supply, these ranges are designed to work just fine on a 30 amp cooker supply!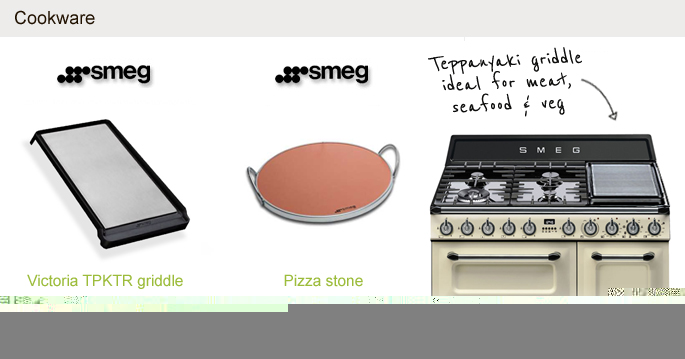 Click image to see full product range
Oven Specs
As you would expect, there is plenty of oven space available, with the New World Vision 90 dual fuel and electric models featuring two A-rated fanned ovens - a 52 litre lower oven paired with a very generous 76 litre tall oven with a useful Defrost function, and there is a separate electric grill compartment. The Vision 90GT retains the tall fanned electric oven, but the left oven and the grill both use gas. The New World Vision 100Df and 100E feature the classic combination of one fanned 52 litre oven (upper right) with a 52 litre conventional electric oven below the separate electric grill. Again, these are all gas operated on the Vision 100GT. There is also a useful storage compartment with drop-down door. All ovens feature wipeclean enamel.
With prices starting at £795* for the New World Vision 90 and £895* for the 100, these highly appealing new range cookers should certainly catch the eye of customers looking for an affordable and capable cooker with a little more panache than most at this price-point. New World has always been a brand to rely on, and it is great to see these fresh and funky new designs breaking new ground.
to see the full New World collection
*Prices correct as of September 2015