The New Smeg Symphony SY93 - a 90cm Range Made for Britain
The Smeg Symphony product range continues to delight UK consumers with its delicately detailed Italian looks and famous brand heritage. With the recent launch of a new Smeg Symphony SY93 with a UK-friendly oven layout, here we take the opportunity to take a closer look at this intriguing, compact and capable new model.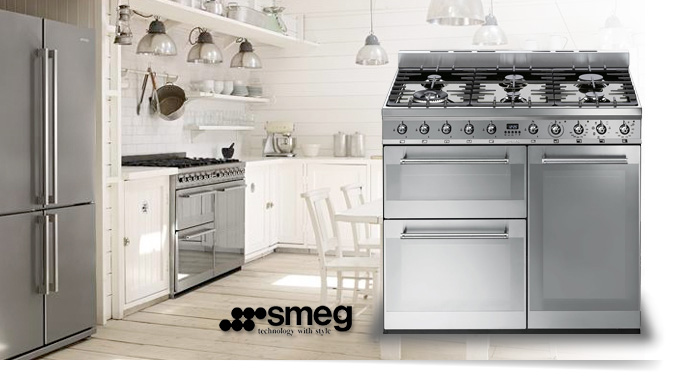 The compact Smeg Symphony SY93 looks great in any setting, and gives you bags of cooking power
Always a big hit in the UK, Smeg have recently been applying some new focus to the needs of the British cook, and on the back of their new UK-specific 110cm layout have now introduced a new 90cm format which takes the more traditionally British approach to things. With a separate grill cavity and a tall right-hand oven the Symphony SY93 has adopted an approach successfully used by the likes of domestic brands Rangemaster, Stoves, Belling, and more recently the Turkish brand Leisure, which concedes that many UK cooks like to have a separate grill rather than one integrated in the oven. Grilling, it seems, is an oddly British preoccupation and our obsession with cheese on toast can sway even the most resolute of continental manufacturers.
Understated Good Looks
Welcome, then, to the Smeg Symphony SY93 (and indeed the heritage-style
Victoria TR93
). In keeping with other Smeg Symphony cookers the look is one of clean simplicity and delicate detailing which gives an overall impression of unfussy minimalism and business-like functionality. Clad in stainless steel or gloss black, the front glass has been given a slight mirror-coating which adds a pleasing metallic sheen and also serves to visually tidy-up the facia when not in use, but with the oven lights on allows you to see into the cavity and check on progress. On the control panel the solid metal tap-style controls are easy to use and to read at a glance, with clear graphics on the angled heat shield, and a digital timer allows you to fully programme the main oven. The six burner gas hob features recessed cast iron pan supports, or you can choose the all-electric SY93I model with a five zone induction hob. There is a small upstand to the rear with intake vents for the integral cooling system, which washes cool air through the whole cooker facia.
The all-electric Smeg Symphony SY93I in black - stunning looks and brilliant induction performance
Oven and Grill Specs
The main oven (lower left) is A-rated and is a 61 net litre, 9-function cavity with a triple-glazed removable door, an easy clean enamel interior and removable roof liner. This is a highly versatile oven with Circulaire fanned cooking and grilling, plus conventional non-fanned cooking and browning functions. Two wire shelves are supplied, with 4 positions available, as well as a 40mm deep oven tray and trivet. The auxiliary oven (right) is a fanned 62 net litre cavity with easy clean interior and nine shelf positions and a removable triple glazed door. A plate rack and wire shelf are supplied. Telescopic shelves are available as accessories for both ovens, as is a pizza stone. The 36 litre grill compartment is designed for closed door grilling and features an easy clean interior, roof liner and removable triple glazed door. Two shelf positions are available, and a single shelf and 40mm deep grill tray and trivet are supplied.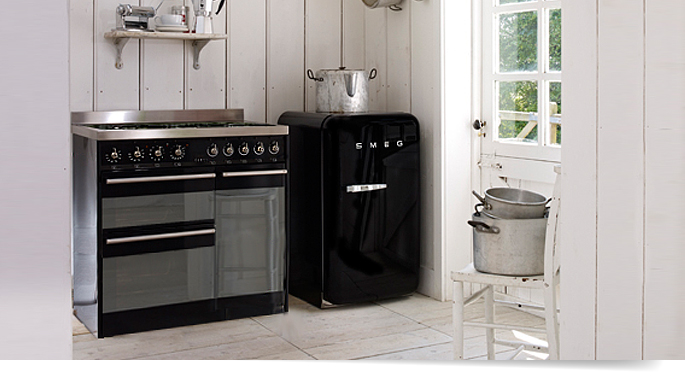 Naturally, there is a fantastic range of Smeg appliances to help your new cooker feel at home
Choice of Hobs
The dual fuel Symphony SY93 gives you six gas burners, including a powerful 4.2kW wok burner at the front left. Finely cast but robust iron pan supports are matt-enamel coated and recessed into the stainless steel single-piece hotplate for a very neat look. Ignition is easy, of the single-handed automatic type, and flame safety cut-outs are of course standard on every burner. LPG jets are provided should you need to convert to bottled gas. For those who prefer the easy-clean simplicity of a ceramic surface, the all-electric Symphony SY93I gives you this, with five powerful and highly responsive induction zones to enable you to cook with all the ease and speed that induction allows, plus the usual benefits of pan- and boil-dry detection and child safety lock.
Pricing and Availability
Whether you choose the dual fuel or the induction version, the Smeg Symphony SY93 is certainly a refined and good-looking range cooker with a great pedigree. With specs to match, these new Smeg 90cm ranges are also pretty fair value, at
£1595
* for the
Symphony SY93
and
£1995
* for the
Symphony SY93I
, including VAT and delivery. If you do place an order your lovely new Smeg range cooker should be with you in 7-14 days.
Use the links in this article to visit our full product pages for full spec and products information, or call our friendly expert team on 01244 402975 for further product or delivery details.
for further details
*Price correct as of May 2015