Opal and Bellini Angled Hoods from Rangemaster Infusion Series
Rangemaster have launched two stunning new contemporary cooker hoods as part of their latest Infusion collection to complement their more contemporary range cookers and built in product range. The two stylish and minimalistic angled hoods in glass - Opal and Bellini - are both stunning to look at but also provide superb performance at a sensible price.
Sleek Angled Design
Angled hoods certainly give a cleaner and more modern impression than conventional wall-mounted hoods, and their design also keeps their front edge out of harm's way so you or taller household members can avoid bumping their heads when cooking. They are designed to operate when you pull out the lower edge of the central glass panel, which is hinged and gas-damped for a smooth action. Both the Opal and the Bellini can be configured to extract to the outside or recirculate (carbon filters are supplied), and both include dishwasher-friendly grease filters and crisp LED downlights.
In black or white glass, the stunning Rangemaster Opal hood is simple, elegant and efficient, and comes in 60, 90 and 100cm widths
Rangemaster Opal Hood
£435 - £495*
The Rangemaster Opal hood has a clean, flat-screen rectangular look conveying an elegant simplicity very at home in sleek contemporary kitchens with a very linear look. Available in
60cm
,
90cm
and
100cm
widths, the black or white glass reflects light and is delightfully easy to clean, and the steel chimney section is in a matching paint finish. Below the discrete Rangemaster branding there are touch-sensitive speed and light controls, backlit with blue LEDs, giving you three speeds plus an intensive boost when needed. Plenty of performance is on offer, with a maximum extraction rate of 660m3/h to ensure your kitchen stays clear of smells, steam and unwanted heat even at a lower setting.
Rangemaster Bellini Hood
£725*
With a similar concept to the Opal, the 80cm wide
Rangemaster Bellini
hood not only has a rather funkier look, with its generously rounded corners, it has a clever and powerful energy-saving brushless motor which can deliver a very impressive 860m3/h and is notably quieter than many hoods in its class. Four speeds and an intensive boost are available via a blue-lit LED touch control area, or via an optional remote control, as well as illumination courtesy of crisp LED downlights. The central glass panel tilts forward in operation and air is passed through washable aluminium grease filters, and there is even a helpful filter saturation alert to let you know when this is needed. The Bellini hood can be configured to recirculate via secondary carbon filters (supplied), or extract to the outside via an additional ducting kit. There are some thoughtful functions available to make things easier - a timer delay to let the hood run on for a given period after you have stopped cooking, and a 24 hour setting which quietly filters the air every 10 minutes to keeps the room fresh.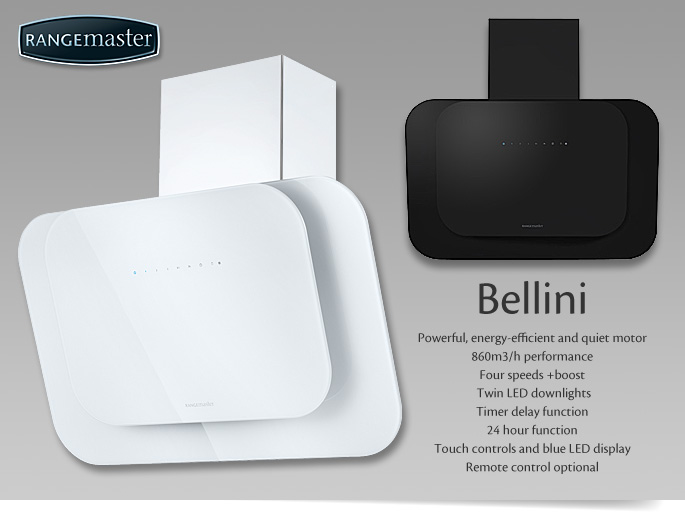 These new hoods are certainly on-message for current kitchen trends, and we love their quietly competent flat-screen design, one which should ensure that the Opal and Bellini find their way into the homes of many happy customers who really care about the detail.
to see all Rangemaster hoods
*
Prices as of October 2013