Two New Lacanche Colours, plus Bespoke Colour Service
Prestigious French cooker brand Lacanche have added two new enamel colours to their existing palette, making an impressive 23 standard finishes available to those lucky enough to be considering a new Lacanche range.
One of the signature features of a Lacanche range cooker is the choice of colours and finishes available to you when you are specifying your ideal cooker. The good thing about owning your own enamelling plant, as Lacanche do, is that you can keep up with the latest trends, or indulge in some great colour choices that other manufacturers would struggle to offer. The latest additions to the range are Dark Olive - a wonderfully rich shade to complement the existing Light Olive, and Mist Grey - a subtle dove grey which will look stunning against cream, ivory and timber kitchen finishes.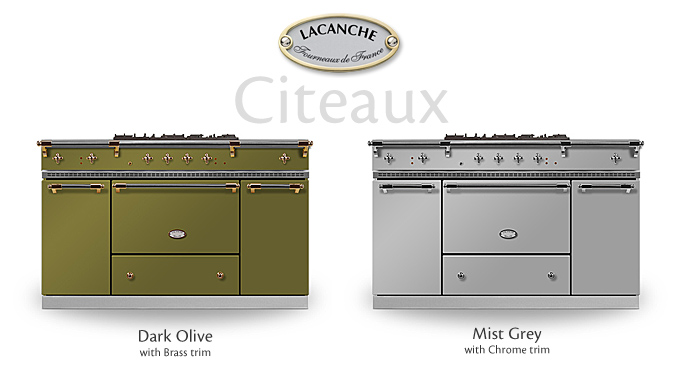 New Bespoke Colour Service
Just to show how flexible they can be, Lacanche have now announced that they are offering a bespoke colour-match service so customers can customise their perfect finish using colour references of any sort and Lacanche's colour technicians will produce samples which will then be agreed with the customer before being expertly applied to the Lacanche range of their dreams. Control knobs and handle-ends can then be selected from one of four metal finishes to acheive the ideal match. Call us on 01244 402975 for further details.
Use our on-page colour match tool to get your perfect choice. Featured on all product pages via the Other Media button
When you invest in a Lacanche range you are ordering one of the best cookers you can buy. The quality of the enamel colours is second to none but this is the icing on the cake, and you can expect a truly professional-grade appliance, hand built at a factory in the heart of Burgundy by people who care very much about what they are doing. Powerful, robust and beautiful - cooking on a Lacanche is a lifetime dream for many serious cooks, who never regret stepping up to Lacanche quality.
to browse all Lacanche range cookers