The New Alpine 90df from Rangecookers - A Breath of Fresh Air
One of the many benefits of a range cooker is the opportunity to add character to your kitchen and your home. The design team at Rangecookers understands this very well, it seems, and are proud to announce the addition of a lovely new 90cm range to their collection - the Rangecookers Alpine 90df.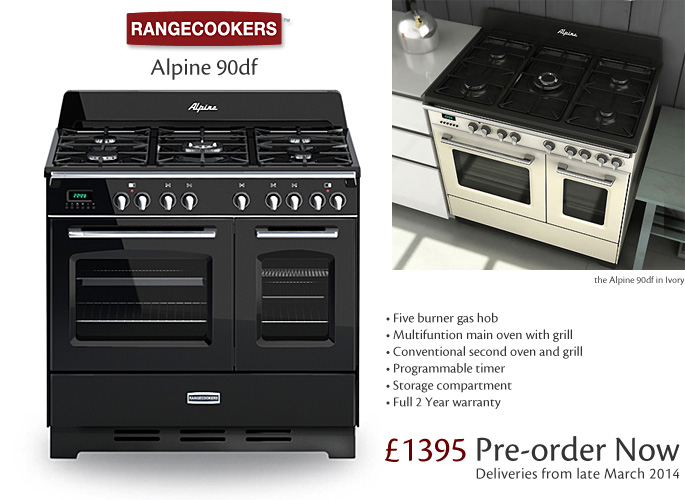 Beautifully Balanced Design
Following on from the success of the more contemporary Select 90df, the new Alpine 90df enjoys the same highly reliable platform, but introduces some more characterful details which all add up to something rather special and very pleasing to the eye. A softer, more homely look has been achieved using the more traditional references of arched oven windows with strongly bevelled edges, a full-width towel rail and a nicely designed rear upstand to the hob area, which also features recessed cast iron pan supports. Attention has clearly been paid to the look and feel of the door handles and control knobs, which have an invitingly soft appearance which still manage to convey a touch of modernity, and the chromed metal "Alpine" branding on the upstand is a nice finishing touch. The overall effect is very well balanced - a warm and friendly modern cooker which will be very at home in a classic or Shaker-style kitchen or a traditional farmhouse setting.
Well-proven Cooking Platform
Available in Gloss Black or Ivory, the Alpine 90df offers great cooking capacity, with a five burner single-pressing enamelled hob, which includes a 3.5kW triple-ring wok burner, a 3kW rapid burner, two 1.65kW medium burners and a 1kW simmer burner. The matt-finish cast iron pan supports are recessed into the hotplate for a smooth look, and ignition is single-handed, so you just hold the appropriate knob in. Flame safety devices are included.
The 65 litre main oven is programmable and impressively large, with multifunction settings which allow you to use it for defrosting, fanned or conventional cooking, or for fanned closed-door grilling. We know from our own baking tests on the Select 90df that this oven cooks very evenly front-to-back and top-to-bottom. The 40 litre conventional electric second oven also contains a grill. Both ovens are double-glazed and B-rated for energy, with removable inner door glass for easy cleaning and a conventional enamel lining. The doors drop down smoothly on good quality hinges, and can be removed completely for cleaning. Below the ovens, a drop-down flap door reveals a useful storage cavity for your oven trays and cake tins.
Available Exclusively from Rangecookers.co.uk
Available to pre-order from January 2014, the first Alpine 90df models are in production now and will be delivered from late March 2014 onwards. At
£1395
*, we are confident that consumers will be as delighted as we are with this elegant new design, based as it is on a popular and well-proven platform which has already gained a reputation for quality and reliability. Like all Rangecookers appliances, it comes with a full 2 year parts and labour warranty, and is complemented by a beautiful range of cooker hoods, splashbacks and cookware, including wok support, steak griddle, teppanyaki griddle and pizza stone.
to see full details of the Alpine 90df
*Price correct as of January 2014