A Tour of Lacanche Country - 6 of 12: Cormatin
Lacanche Cormatin range cookers are conceived and hand-built in the town of Lacanche, Burgundy, giving us a great excuse for a virtual tour of this amazingly beautiful and bountiful region and a closer look at the place that gives this cooker its name…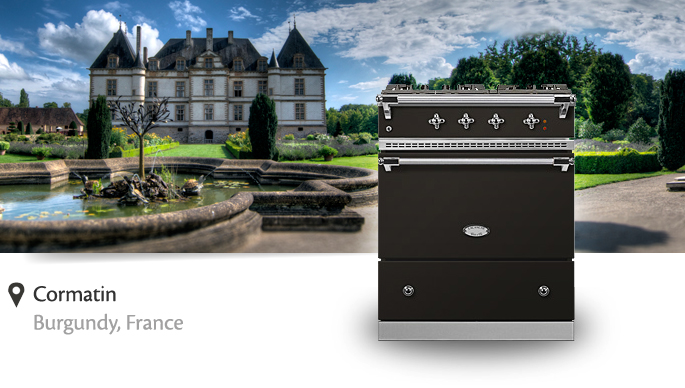 The Cooker
For those who crave the Lacanche experience - creating great food on a beautiful, solid and highly capable cooking platform - and who may have a smaller kitchen or more modest needs, the Lacanche Cormatin is there to provide a simple and elegant solution. At 70cm wide it will squeeze into a small space, and you can choose from either a 73 litre static electric oven with grill, or the generally preferred option of a 65 litre dual function oven and grill, which can be changed from static to fanned at the flick of a switch. To suit your cooking requirements there is a choice of hobs, with a Classic four burner gas hob, a more powerful three burner Classic gas hob, or the traditional hob with two burners and a versatile simmer plate - often preferred by professional cooks. If you would like the convenience of an electric hob, you can choose either a four burner ceramic or a three zone induction hob.
Once you have your format you are then faced with a pleasant decision on colour and finish - there are 22 colours to choose from, all in a high-lustre vitreous enamel, plus stainless steel. Match this with one of four trim finishes - chrome, nickel, brass or brushed steel - and you will have the cooker you always dreamed of, in a compact but powerful package.
The Place
-
Click Here for location map
If you are visiting the delightful Cluny or Tournus and fancy a bit of splendour and elegance, then the Château de Cormaitin is just around the corner and is a rather nice example of an early 17th century residence. Once owned and occupied by the du Blé family, or the Marquises of Huxelles, who originally built a fort on the site to defend the road to the Abbeye de Cluny back in 1280, the current building was begun in 1606 by Antoine du Blé on the proceeds of his military success during the Religious Wars. He must have done very well, as it is an impressive building - a successful blend of military strength and ornate elegance, with some very pleasant gardens and water features.

Photos ©Chateau de Cormatin
The French aristocracy certainly liked a touch of opulence, and some dazzling interiors are also in evidence, with extensive gold leaf in the famous "Gilded Rooms" and colour in abundance. Following a period of almost disastrous neglect a restoration programme was begun in 1980 by Château de Cormatin's brave new owners, who have also received some funding from the sate to supplement the income derived from some 60,000 visitors per year.
For further information, visit the Chateau de Cormatin website
HERE
.
for full details of the Lacanche Cormatin