Inspiration... Shades of Purple
A regular feature, we love to show how your cooker can help define your kitchen decor, and what better way to show your sensual side than with a gorgeous shade of purple. A warm, rich and friendly colour, purple has long held a special place in the hearts of humanity and, due to the high cost of its sea-snail derived dye in ancient times, revered as a rare and noble colour only used by the rich. Fortunately, things have changed...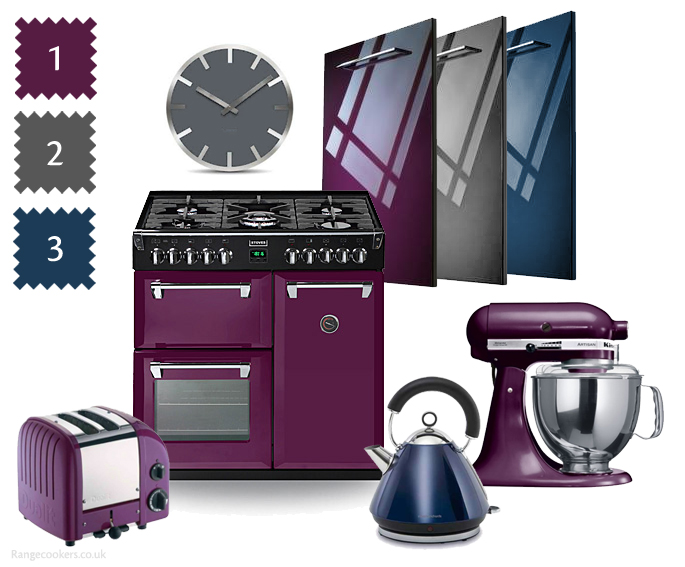 Indulge your love of purple and blend with complementary hues to accessorise your kitchen
Purple Across the Price Spectrum
Purple is one of those colours that some people become rather obsessed with, but you do not have to be on the eccentric side to fall in love with its luscious demeanour, and when it comes to the home why not set the scene with a purple cooker? Unlike the ancients, you will not have to pay a fortune for the privilege, as a
Belling Classic
90cm range cooker can be yours for a mere
£1145
* from Rangecookers.co.uk in Wild Berry (one of the Colour Boutique collection), a colour available on 100 and 110cm models in various fuel formats, and also available on the higher-spec and elegant
Stoves Richmond
collection. If you only have a small space, the
Stoves Richmond 550DFW
is a lovely 55cm mini range at only
£795
*.
If you have the budget to aim a little higher, the prestigious French brand
Lacanche
offer all of their amazing range cookers in Plum, which hits the right purple note, with a choice of trim finishes, oven and hob configurations and sizes. If you have a particular shade in mind, why not consider a custom-colour
Rangecookers Ethos
in 90, 100 or 120cm? A little higher in price than a standard colour, but for the cooker of your dreams it is money well spent! Britannia also offer a custom "Colourange" colour service on all models.
The Stoves Richmond 550DFW Colour Boutique model in Wild Berry - a Mini Range with a warm and friendly character
Getting the kitchen right is vital for a well-balanced home, and we love it when customers are bold enough to stray from the norm. A purple cooker is a wonderful way to define yourself as someone who sees the world a little differently, and with a great range of small appliances and matching or complementary materials available we think your life will be all the richer for a little more purple around the house.
to see ALL purple range cookers
*Prices correct as of June 2013