Inspiration... Elegant Ivory
Our regular Inspiration feature aims to demonstrate how your choice of range colour can help define the mood of the whole kitchen. Ivory is a great choice - not as rich and traditional as Cream, and not as stark as White - and will adapt to complement a variety of other colours.
Mercury's stunning Oyster provides a great starting point for warm complimentary colours, and you will not tire of its elegant look
Subtle and Elegant
Ivory has a wonderful subtlety which can work equally well in a traditional or classical kitchen or in one where sharp, contemporary lines and finishes prevail. It shows off stainless steel brilliantly, and brings out the warmth of natural timber, and well as enhancing the depth of rich complementary colours and the vibrancy of brighter hues. All the while it maintains its own dignity and elegance, and is neutral enough that you will not tire of it over the years and can change you scheme around it.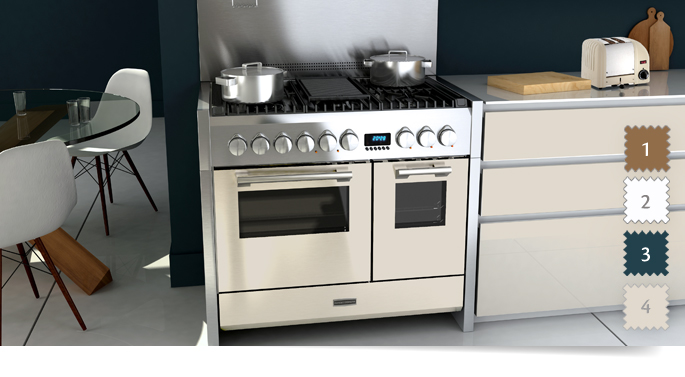 The Rangecookers Ethos series offers a custom colour option to allow you to specify exactly the right shade for your kitchen scheme
A Discerning Choice
Ivory range cookers are available from a limited selection of brands, including market leader Rangemaster, who offer it on their entry-level Kitchener style and their top-end Excel and
Professional Plus 90 FX
models. Mercury also offers an ivory in the form of
Oyster
, available on all their 100, 110 and 120cm models, and prestigious French brand
Lacanche
offer Ivory with a choice of four trim finishes, of which we reckon Nickel works beautifully well.
Fresh and funky - a Rangemaster Kitchener 90 in Ivory allows you to have some fun with colour accessories
Alternative Shades
A true ivory is a not-quite-white shade, but there are some paler versions of cream which can work in a similar way and may be worth considering where a true ivory is not available.
Britannia's 2013 collection
offers such a shade, in a modern form like the Delphi series or the more traditional Fleet or Wyre, which both employ a matt finish which looks very elegant.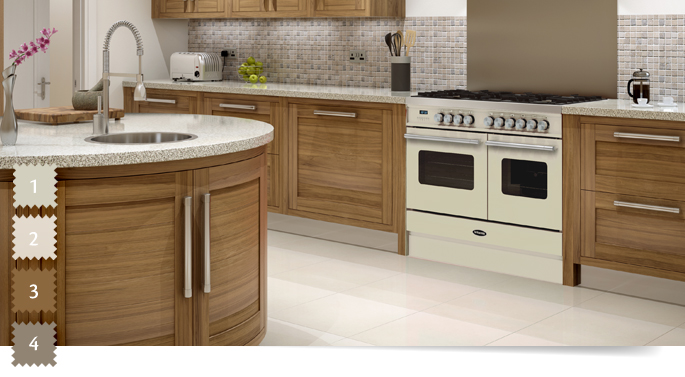 The Britannia Delphi in Cream - a pale alternative to ivory, with similar properties. A custom Colourange service is also available
to browse for Ivory range cookers, or
HERE
for cream