Immaculate Ex-display Bargain Ranges to Take Home!
Our lovely showroom is full to the brim with some very nice examples of range cookers from some of the best manufacturers in the world. In the interests of keeping things fresh we are looking to move a small selection of these on, and are offering a 10-15% discount on them to a lucky few customers.
Unlike some showrooms we keep our displays in immaculate condition, so you can be sure you are getting a product which is as good as new. These ex-display bargains naturally include the manufacturer's original full warranty.
Published July 2015 - call us or click HERE for current ex-display discounts.
If you would like to visit our Chester showroom, you will find opening times and directions
HERE
.

Steel Genesi 100 Triple, Mega Wok model
-
Save £970
Steel is one of the best cooker brands around, with an impressive history of building ranges with true engineering integrity throughout. This Genesi model represents all of Steel's manufacturing values superbly well, with a reassuring solidity and chunky feel which instills confidence at first sight. With three oven cavities and a smooth-action storage drawer this highly capable range gives you great versatility in a compact form. A fanned main oven with grill, with a static oven and grill above and a second static oven and grill on the right (with rotisserie) you have plenty of A-rated oven space. Five gas burners on top include a 3.5kW wok burner and an amazing 4.6kW Mega Wok burner for all the cooking power you could need. Wonderfully chunky solid metal control dials and a blue LED digital programmer adorn the control panel, which forms part of the same sheet of high-grade stainless steel as the hob, so there are no awkward gaps. The triple glazed doors are clad in a crisp white finish which really sets this range off as something rather special which will perform as brilliantly as it looks. A full 2 year warranty is included.
Bertazzoni Master Series 90 Twin
-
Save £320
One of our most popular displays, this characterful Bertazzoni is a real bargain. Its five gas burners include a very impressive 0.48 to 5kW central ring with an unusual dual control feature, allowing you to control the inner and outer rings independently for a very gentle simmer or a sizzlingly hot quick boil or wok cooking session. The control panel features a handy and visually appealing temperature dial for the main multifunction oven, and there is an auxiliary oven which includes a grill. Both ovens are A-rated. There is no storage compartment, but for a small price this display deal can include the optional plinth kit should you need it, which normally retails at £190. Bertazzoni 2 year parts and labour warranty applies.

Rangecookers Ethos 900 Deluxe with Bigblue 900 Hood
-
Save £700
From our impressively well-made and stunningly attractive in-house collection, this beautiful single cavity range and hood are finished in a subtle Olivestone green, which looks superb alongside timber cabinets, ivories and greys etc. The engineering and attention to detail on this range and hood is second to none, and if you are a serious cook you will love the performance they offer. Made by one of Italy's top range specialists, the Ethos 90 features a high quality single-piece hob with four gas burners plus an extremely useful semi-integrated smooth cast iron frytop, which you can remove to reveal two radiant ceramic cooking zones. The control facia is part of the same sheet of steel as the hob (no seams to worry about), and features large, solid metal hi-fi style dials and a digital programmer for the copious but efficient A-rated 78 litre oven, which includes a rotisserie and a full-width grill and a telescopic shelf. The high performance Bigblue 900 extractor hood (recirculation is not possible) features a 1000m3/h motor and four halogen downlights, all controlled by electronic control buttons on the underside. All together, this makes a fabulously premium cooker set-up for the right kitchen, and with 15% off it is even more appealing. 2 year parts and labour warranty included on both items.

Rangemaster Elan 90 DF
-
Save £190
One of Rangemaster's most desirable models, the Elan's resemblance to an Aga makes it a wonderful choice for a traditional kitchen, and this compact 90cm model will be a great centre-piece at the heart of any home. In cream enamel, with wire-wound door handles, full width towel rail and door-mounted temperature dial, this visually appealing range cooker comes with Rangemaster's highest specification. A large, fully programmable multifunction main oven with grill, a tall fanned second oven, and a separate electric grill with glide-out grill tray give you plenty of A-rated cooking capacity down below, whilst on top you have five gas burners including a 3.5kW wok burner. A cast iron wok support and cast aluminium half-smooth griddle plate are also included. Rangemaster 2 year parts and labour warranty.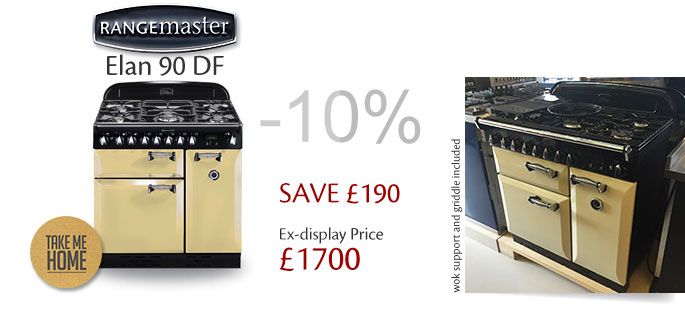 Smeg Opera A2-6
-
Save £200
The definitive Smeg range, this 100cm model has all the features and performance Smeg is famous for. With delicately designed metal controls and a clever LED analogue clock/timer the Smeg Opera collection manages to look both elegant and businesslike - a great balance for any modern kitchen. A six burner gas hob with flush-mounted cast iron pan supports includes two 4.0 kW wok burners. A 51 litre multifunction oven and 27 litre static second oven with grill and rotisserie are both triple-glazed and A-rated. Also available are the matching Smeg hood and splashback, so you can achieve the full Smeg look. Call us for further details. Smeg 1 year standard warranty included, extendable to 5 years on registration.

We are happy to tell you more about these excellent bargains - just call us on 01244 402975 or pop into our Chester showroom for a closer look. All of our displays are in A1 condition and can be delivered or collected to suit your needs.