Gas Range Cookers for Classic & Traditional Kitchens
Gas cookers are still a popular choice in the UK, and whether you have a contemporary or a traditional kitchen there is still a reasonably good variety of gas ranges to choose from. In this article we will take a look at the more traditional side of the market.
A gas cooker is one which uses gas, whether delivered via the mains or from a bottle or tank, on both the hob and in the ovens and grill. Although slower to reach temperature, gas ovens are often preferred by home cooks due to the qualities of the heat produced, which is more moist than that of an electric oven, and is often considered perfect for baking. If you have got used to cooking in a gas oven it can be alarming to see your trusted recipes turn out drier than they should be in a fanned or conventional electric oven, and this is one of the reasons gas cookers endure. Also, gas cookers will only require a conventional 13 amp socket to operate the ignition, timer and lighting, and many people simply do not have a 30 or 40 amp electrical supply required by dual fuel or electric cookers.
Mains Gas or LPG?
Gas cookers are typically built for natural (mains) gas or for LPG, and will NOT convert from one to the other. The range of LPG models is very limited these days (see them all
HERE
), so it may be worth considering moving to a dual fuel model, as they are all convertible, but will require a 30 amp electrical supply.
Prefer something more contemporary?
You will find our guide to modern-looking gas ranges
HERE
.
So, if you love the country kitchen look or the classic simplicity of the shaker style you will undoubtedly be looking for a gas range cooker with all the right style and features. The ranges below vary from fairly neutral in appearance to more traditional or downright rustic, so hopefully there is something to suit both your home and your budget.
New World 1000G
-
£750
* - Natural gas only -
Click for More
The New World 1000G is a little old-school, coming as it does from the days when two 50cm cookers built side by side made a range cooker. It still performs a good role, though, as a low-cost well-proven family cooker with lots of cooking capacity courtesy of an eight burner hob, two gas ovens and a gas grill, plus a storage compartment. Plain and simple doors (windowed on the Silver model, non-windowed on the Charcoal) and tubular handles give it a neutral-to-modern look rather than traditional, but it is certainly worth including here. There is a clock/minute minder but no oven programmer, but if you are looking for a great value gas cooker from a trusted brand, this model is definitely worth considering.
Belling Country Classic
-
£995
* - LPG Propane only -
Click for More
A close cousin of the New World 1000G above, the spec here is exactly the same, although the look is slightly enhanced, with a heavier door handle design and larger windows. In Silver and chrome only, this LPG range cooker must be run on Propane (not Butane), and often proves a good option for holiday cottages in remote locations.
Belling Classic
- from
£995
* - Natural gas only -
Click for More
Belling is the perfect choice for many cooks, with a reputation for solid and affordable British-made cookers which goes back generations. The Belling Classic series gives you a straightforward traditional looking cooker with no frills, and is an attractive proposition when it come to gas. Bevelled doors, arched windows and a screen-printed rear upstand (removable if preferred) all lend the Classic a heritage feel without being too lavish about it. All models have a programmable main oven (time-to-off) and a gas grill cavity, with a second gas oven on 100 and 110 models, and a copious tall oven on the 90 which is a fanned electric cavity (due to its proportions). This nonetheless works on a 13 amp plug, and is great for batch baking. Available in Black, Silver or Cream standard colours, plus a range of brighter Colour Boutique shades for a slightly higher price.
Cannon 1000G
-
£1175
* - Natural gas only -
Click for More
A brand with a great gas heritage, Cannon have put a little extra into this 100cm gas range. Its six burner gas hob features an impressive 5kW main burner, which comes with a cast iron wok stand. Additionally, the two burners on the right are oval shaped and can be turned 90° to form a long burner for a fish kettle. There are two gas ovens with self-clean liners, a separate gas grill, plus an electric warming compartment - another thoughtful touch. In Cream with satin gold details (CH10755GFS), or Stainless Steel (CH10750GFS), the Cannon 1000G is nicely rustic and rugged in looks, and its character and features make it a popular choice.
Stoves Richmond
- from
£1295
* - Natural gas only -
Click for More
From the same manufacturer as Belling, the British-made Stoves Richmond series uses the same chassis and oven cavities but raises the specifications and the elegance and is the company's flagship brand. With more bevelling to the doors, better handles and knobs and an additional Aga-like front rail, the Richmond does a great job of being a traditional range cooker, but there is more than a little modern twist to its design which makes it work well in a broad variety of kitchen styles. With one programmable (time-to-off) gas oven plus, on 100 and 110 models, a second the same size, there is also a third gas oven in the grill cavity, which features an electric grill. If you prefer a gas grill this may be a compromise, but the variable electric element is really very good. The fourth cavity on the 100 and 110 is actually a low-power electric slow-cook oven, so you really are getting good value (although the gas ovens have slow cook settings too). Telescopic shelves and easy-clean enamel are standard, and on top there are seven gas burners. On the Richmond 900GT the cavernous tall oven is fanned electric, but all models work from a 13 amp plug.
Rangemaster 90 (NG only) & 110 (NG or LPG)
- from
£1425
* -
Click for More
Rangemaster's oldest format, the lidded 90 and 110 models are a reasonably priced choice from the UK's largest range manufacturer. The inoffensively plain but pleasing look has become something of a classic, with neatly sunken-in cast iron pan supports and handy glass lid, but is only available in black and chrome these days. With Rangemaster you do get a particularly large (69L) main gas oven with time-to-off programmer, and a second large gas oven on the 110, or a tall fanned electric oven on the 90. Both models feature a separate gas grill. The main oven includes a swing-out Handyrack roasting tray, with self-clean catalytic liners included (also on the second large oven). On top you get five gas burners (although no wok burner), plus an electric warming zone on the 110. An older design, the hob has a joining strip rather than being a one-piece pressing, and the pan supports sit into individual spill wells.
Rangemaster Classic
- from
£1715
* - Natural gas or LPG models -
Click for More
Undoubtedly the ultimate mid-market traditional range when it comes to country-kitchen cosiness, the Classic 90 and 110 share the same general cooking spec as the lidded models above, with the addition of a 3.5kW wok burner, but borrow some of their styling from their posher stablemate, Aga. The chunky doors design with baker's oven style windows, and a full width towel rail and short door handles, plus the arched rear upstand, all add up to a cooker with bags of homely character that British cooks continue to love. A palette of six traditional vitreous enamel colours is available, with a choice of chrome or brass detailing on all but the All-white model.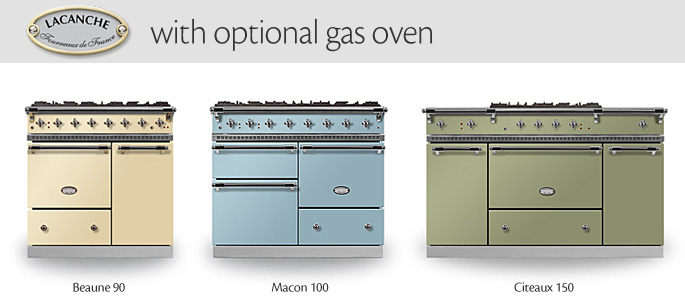 Lacanche Traditional
- from
£3990
* - Natural Gas or LPG models -
Click for More
It may be stretching a point to call them true gas cookers, but these Lacanche models are definitely worth bearing in mind if you are serious about cooking, as they are amazingly good professional-grade appliances and a very sound investment. One of the advantage of the Lacanche brand is that it often allows you to specify your ideal cooker, including the ability to include one gas oven and one electric. However, it has to be said that these are powerful gastronomic gas ovens which may pack too much of a punch for British bakers, although professional cooks used to using gas ovens in a commercial kitchen will fully appreciate them. Business-like but very easy on the eye, in widths from 70cm to 220cm, these French heritage-style ranges are a real head-turner, with up to 30 colours and four trim finishes available.
to see ALL natural gas range cookers
*Prices correct as of February 2015