Full English on a Rangemaster Nexus 110
If you are fond of the occasional or perhaps regular Full English you will definitely appreciate a cooker with a dedicated griddle. Rangemaster's Multizone hob is a great example of this, and is featured on the new Rangemaster Nexus 110, as well as all 110cm Rangemaster Professional Deluxe and Classic Deluxe models, and the Excel. The Multizone hob gives you a lovely big cooking area and lets you plenty of room to indulge your savoury urges in the morning.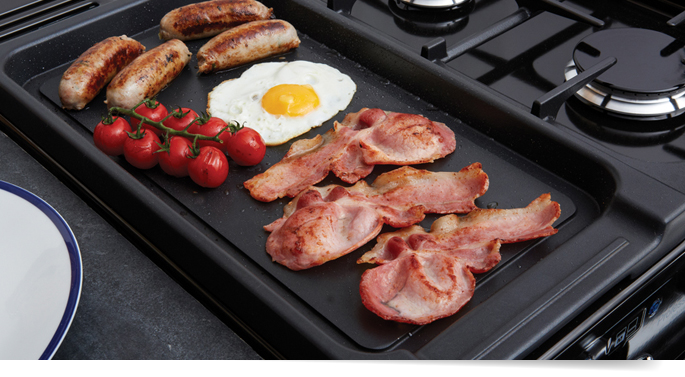 Not just for breakfast, the Multizone griddle can be used for stir fries, teppan-yaki style fish and vegetables, or even for drop scones, fritters and potato cakes. Made from non-stick-coated cast aluminium it is easy to clean, and when occasion demands you can lift it away to reveal two ceramic cooking zones to supplement the five gas burners. The Nexus features a programmable multifunction main oven with grill, fanned second oven and a separate dedicated grill, plus a handy warming compartment for keeping extra bacon on the go!
The Rangemaster Nexus 110. Available in Stainless Steel (as shown), Gloss Black, Gloss White and Matt Slate
The Rangemaster Nexus is a very clean, crisp and contemporary design with a top-end specification, and is a stunning new addition to the Rangemaster line-up. Prices for models featuring the Multizone hob start at £1995* for the Professional Deluxe model, with the Nexus 110 at £2160*, including VAT and delivery.
for full details on the Rangemaster Nexus 110
*Prices correct as of February 2015