Focus on Wok Burners
Almost every range cooker with a gas hob features at least one very powerful burner generally referred to as a Wok Burner, and in this article we take a closer look at this great cooking feature, the varying types of wok burners and the various ways you can utilise their intense heat to produce superbly tasty meals you may not have tried before.
Wok Cooking - Simple and Versatile!
The wok was originally designed for pit cooking in China over 1,500 years ago, and has become one of the most common cooking utensils across East Asia and Southeast Asia. Its popularity has spread around the globe as a kitchenware staple, allowing Western kitchens to experience this truly versatile piece of equipment. It has many uses beyond the simple stir-fry — woks can poach, pan-fry, deep-fry, steam, sear,
and
stew! Traditionally round-bottomed, modern times have seen the emergence of the flat-bottomed wok which some find more practical (and can also be used on a ceramic or induction hob). Professional asian chefs swear by a straightforward, no-frills steel wok which becomes seasoned over time and is simply wiped cleaned and never washed. Non-stick, cast iron or even electric woks are now commonplace, but it seems you can't really go wrong with the cheap and simple approach!
Wok Cooking & Range Cookers
Wok burners on mid-range brands like Rangemaster, Belling or Stoves typically give you 3.5kW of heat, certainly enough sizzle-power for wok cooking, but pay a little or a lot more and you will get 4.3kW or even up to 6kW! More heat means flavour gets sealed into your food that much more quickly and the natural steaming action of most wok cooking will also be intensified, with noticeable results in terms of speed and flavour. Practical and beautifully simple in design, the wok is perfectly balanced in its roundness and depth, which allows an even distribution of heat across the surface. When using a flat bottomed wok, no adjustment need be made to the hob, although you may find a work support ring useful for keeping things central over a gas burner. This is clearly essential for a round bottom wok, which many people prefer to use for a more authentic and traditional experience. The wok ring lifts the pan above the flame for optimal heat exposure, and means the wok will sit steadily without slipping.
Wok Supports
Wok supports and wok rings
are typically product-specific and are often but not always supplied with your range cooker. If not it may well be worth ordering one as an optional extra at the same time as the range cooker. As an alternative to a brand-specific option, the universal
Bigblue wok support ring
is compatible for use with most range cookers and comes beautifully packaged, making it the perfect gift for the keen cook! Designed and made here in Britain, its sturdy cast iron rings are finished in dark grey matt enamel.
The Bigblue wok support

Wok supports come in various shapes and sizes, but offer stability and perfect positioning for round or flat-bottomed woks
A round bottom wok is manoeuvred in different ways on its support depending on the type of food being cooked. For example, a wok can be tilted to accommodate the braising of a whole fish, or a stir-fry can be turned over by holding the handles, and tossing the wok to thoroughly distribute heat. For inspiration, take a look at our collection of
Asian-inspired recipes
.
Wok Burners
The Britannia Q-Line has two brass-bound dual burners.
Most range cookers come with one or two dedicated wok burners, distinguished from the other burners by a particularly high power and fast speed. Of course you can also use the wok burner — which is sometimes referred to as the
power burner
— for high speed cooking with any large pan. For example it is often used to quickly bring water to the boil when cooking pasta, before moving onto a smaller burner for simmering.
We've compiled a list of our favourite range cookers with wok burners. We hope you enjoy browsing – if you have any questions please contact one of our experienced sales team on 01244 402 975 – they'll be happy to assist with any enquiries. Or why not visit the showroom in Chester? We're open Monday to Friday from 8.30am to 5pm.
Steel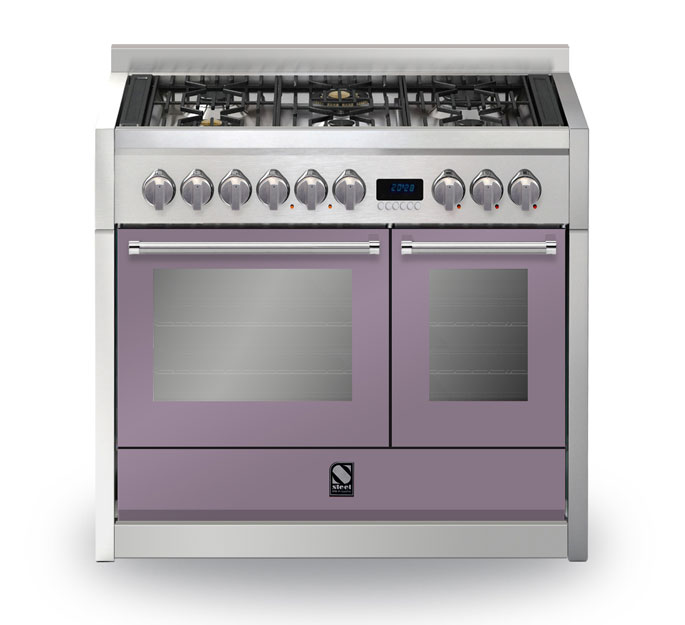 The Genesi 100 DF is a solid and reliable build, featuring brass burners. It is shown here in 'Amethyst', a Le Creuset colour .
The superb Genesi and Ascot models from Steel feature high-performance "air-tight seal" burners, all with safety valves and a 'one-touch' ignition system. Both models include the option for an amazing 6kW Mega brass burner, for the ultimate in speed and power, as well as a standard wok burner producing 3.5kW. The hob has strong, high-profile grids made from enamelled cast iron, with protective anti-scratch rubber pads. A fully moulded hob plate with wide rounded corners makes cleaning quick and effective.
The Genesi and Ascot by Steel have various hob options to choose from. The 6kW Mega Brass Burner features an embossed Steel logo.

Bertazzoni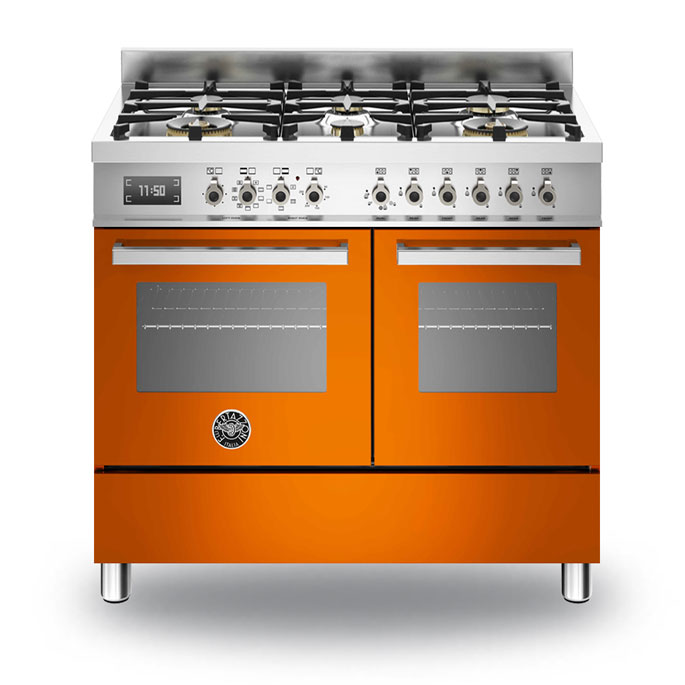 The Bertazzoni Professional 100 Twin features dual control burners for maximum control
The
Bertazzoni Professional 100 Twin
features differently powered burners for flexible cooking. Whether you need your pans to gently simmer or rapidly boil, Bertazzoni's high-efficiency hobs can supply the accuracy you need.
The
TWO dual control power burners
offer independent control of inner and outer rings for maximum heat management, so you can use either the inner or outer ring, or both together, giving an amazing range of 0.48kW to 5kW. The heavy-duty cast iron pan support allows pots to be placed closer to the flame which reduces gas consumption as the pan will reach boiling point sooner during cooking.
Each burner features a child-safety ignition system, allowing for one-touch lighting and adjustment. A thermocouple safety system automatically cuts off the gas flow if a flame should go out.
The brass burner is stylishly embossed with the Bertazzoni emblem.

Rangecookers
The Rangecookers Select 90DF features a central wok burner
The
Rangecookers
brand showcases high quality design and attention to detail, resulting in a trustworthy, good-looking and highly popular product range. It is the creation of cooking-focused design team
Bigblue
, a sister company to Rangecookers.co.uk, whose products are manufactured in a carefully chosen factory in northern Italy. The
Select 90DF
is a reliable and sturdy model, with solid cast iron grids and metalised control knobs. It features single-handed ignition for ease of use and flame supervision devices. The central wok burner has triple rings for maximum heat distribution and comes in at a powerful 3.5kW. A central wok burner is incredibly useful, as its position does not interfere with other pans on the hob.
Britannia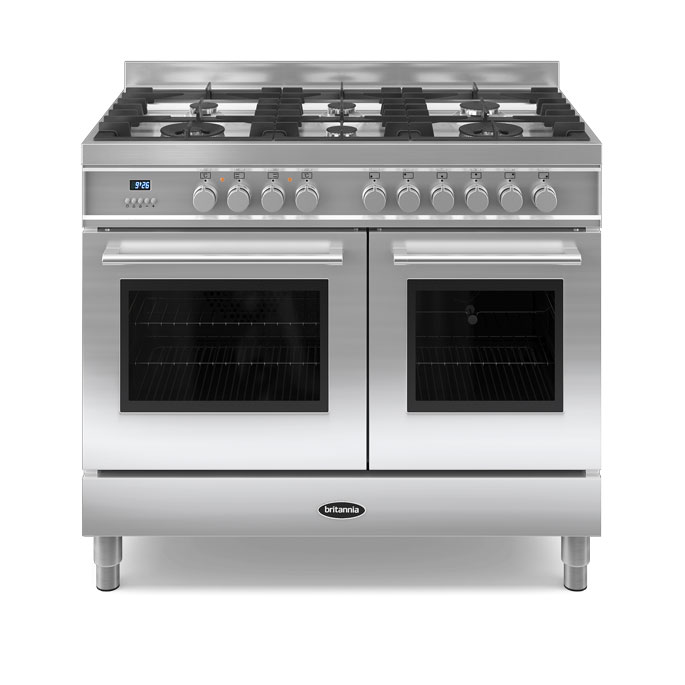 The Britannia Q-Line with dual burners.
The Britannia Q-Line features
TWO dual control burners
which are fast and fully controllable, with a very impressive power range of a mere 0.48kW up to a whopping 5kW, as well as one large burner of 3kW and three medium burners of 1.75kW each. The Q-Line has one-hand ignition, and a flame failure device which shuts off gas supply should a flame go out.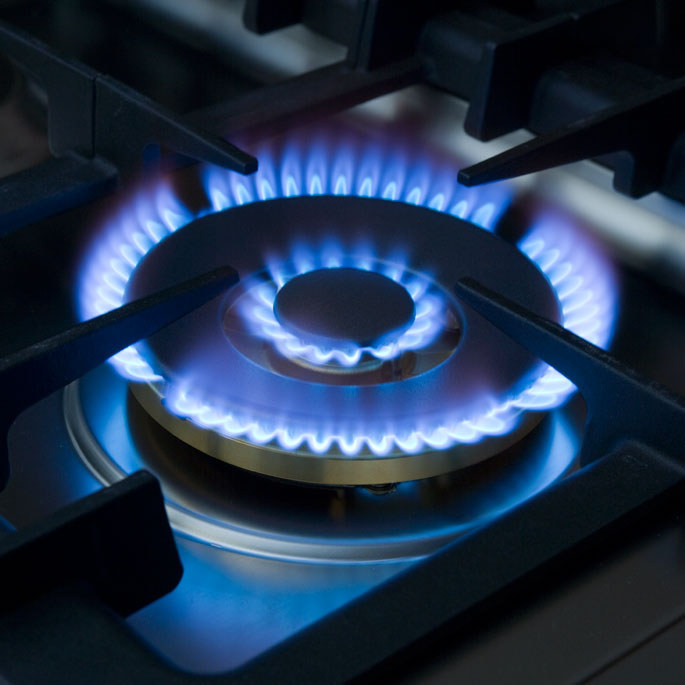 The Britannia Q-Line has powerful dual burners for maximum controllability.
ILVE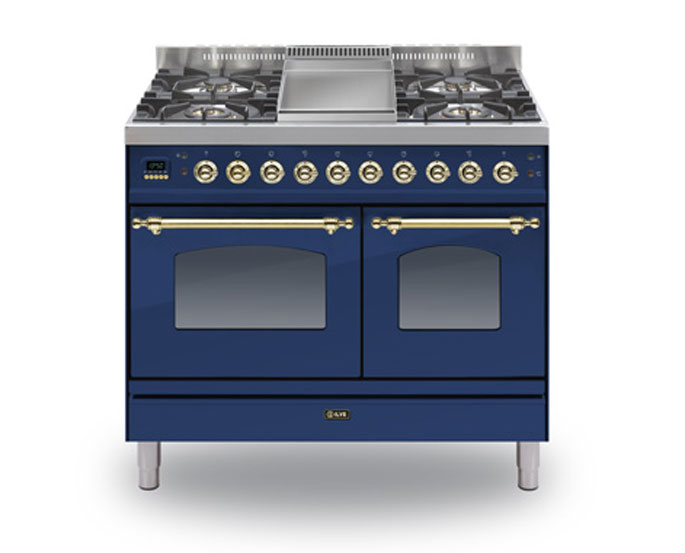 This stylish Milano features two triple ring wok burners.
The
Milano 100 Twin Fry Top
features two 4.3kW triple ring wok burners which have excellent accuracy of control, from a soft flame to full power with ease. The Milano features individual cast iron pan supports and spill zones, and flame safety devices. This model features the Fry-top, however we have six variants available, with a choice of different hob layouts – which can include Electric Fryers, BBQs and Coup-de-feu simmer zones – please call us on
01244 402 975
with any hob option enquiries.

Lacanche
The Lacanche wok ring fits over any Lacanche gas burner, but is designed to allow their simple and solid brass 5kW main burner to deliver its maximum cooking power beautifully evenly. Intense cooking power is what Lacanche excels at - even their mid-size burners can give you 4kW, indicative of the brand's credentials and heritage as a commercial cooking platform.
The Lacanche wok ring can be placed over any powerful hob burner
A traditional 100cm simmer hob configuration - an option many professional cooks prefer.
The wok ring will also fit neatly into the recess of the traditional simmer hob, pictured above, when the centre is removed to allow for full open flame cooking.

If you require a dynamic power for the top of your cooker – which can handle a powerful flame as well as a gentle simmer – then the intensity and accuracy of the wok burner are ideal. Call one of our experienced team on 01244 402 975, or visit our showroom for specialist advice.