Fisher & Paykel's Confidently Premium 90cm Range Cookers
New Zealand appliance brand Fisher & Paykel can always be relied upon to do things little differently, and their latest range cookers are no exception. Stunning premium cookers which not only look amazing but offer exceptional performance - we take a closer look.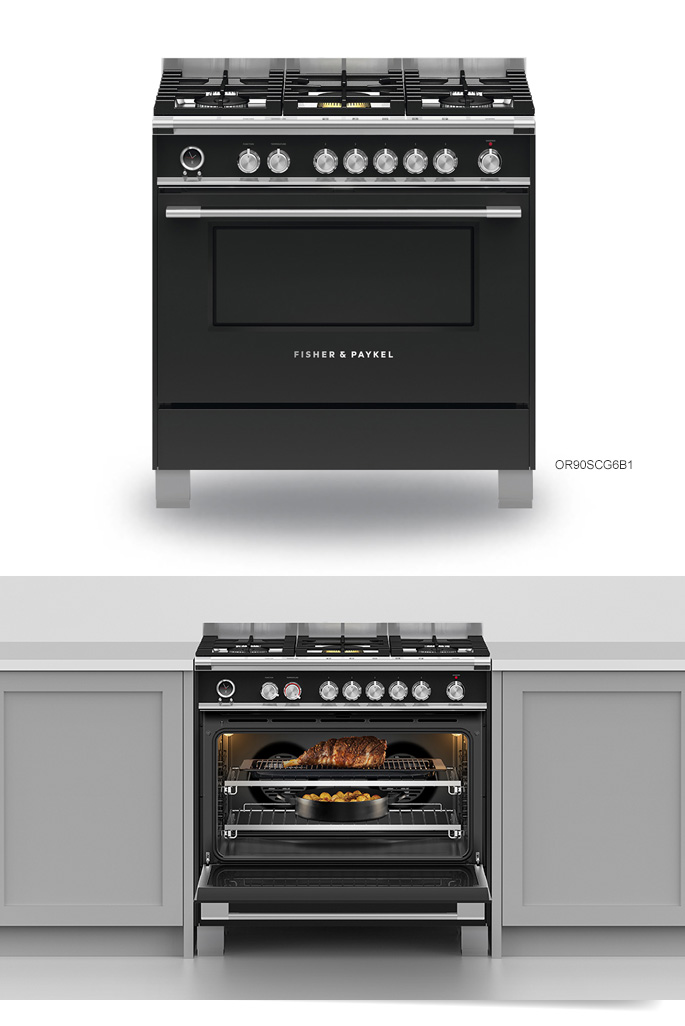 Single cavity 90cm range cookers are not everyone's cup of tea, but if your cooking needs are relatively simple then there are some stunning choices on the market. The latest of these comes from a famously innovative brand which enjoys a great reputation across the world. Fisher & Paykel already have some very appealing range cookers to offer, but these latest models up their game somewhat and demonstrate that the design team not only know their stuff but have a keen eye for what the market needs - all delivered with very typical F&P flair. Highly contemporary range cookers in two styles, with two spec-levels: the stylish
Classic
, with bevelled door detailing, full-width towel rail and just enough subtle references to traditional cookers to bring character into a modern kitchen, and the
Contemporary
, with its steel-clad glass door, sharper edges and clean, crisp demeanour. The specification is impressive whichever model you choose:
A-rated 9 function 120L oven including Pastry Bake™ with pizza mode
AeroTech™ oven technology (twin fans for even heat distribution)
Digitally controlled accurate oven temperatures
Automatic rapid pre-heat
Quadruple glazing/CoolTouch door
Telescopic sliding shelf
Soft-close door action
Removable oven door/inner glass
Drop down grill element
Four halogen lights
Metal control knobs (solid s/steel on Contemporary)
Halo control illumination
Laser etched graphics
Three 4.5kW wok burners (central burner dual control)
Pay little more and get:
Pyrolytic oven cleaning
Pyrolytic proof shelf runners (2 sets)
Rotisserie
Warming drawer
Solid brass central burner
High definition circular timer with analogue clock display.
Nice Touches
There is plenty to like on these beautiful ranges, but we particularly admire the control graphics thoughtfully laser-etched onto the gently bevelled leading edge of the hotplate, as well as etched or printed onto the front facia, aided by the nicely done halo illumination to quickly let you know what is happening at a glance. The use of solid metals on control knobs is always sign of quality, and these are machined from solid stainless steel on Contemporary models and a clever mix of zinc casting and plastic on the Classic. The branding on the Classic door is very nicely executed, contributing much to the perfect balance of character and modernity on this model. Brass burner construction (on pyro models), and the use of stainless steel buttons and bezel on the timer all speak volumes about the thought that has gone into these products, and the results are something a cut above the competition.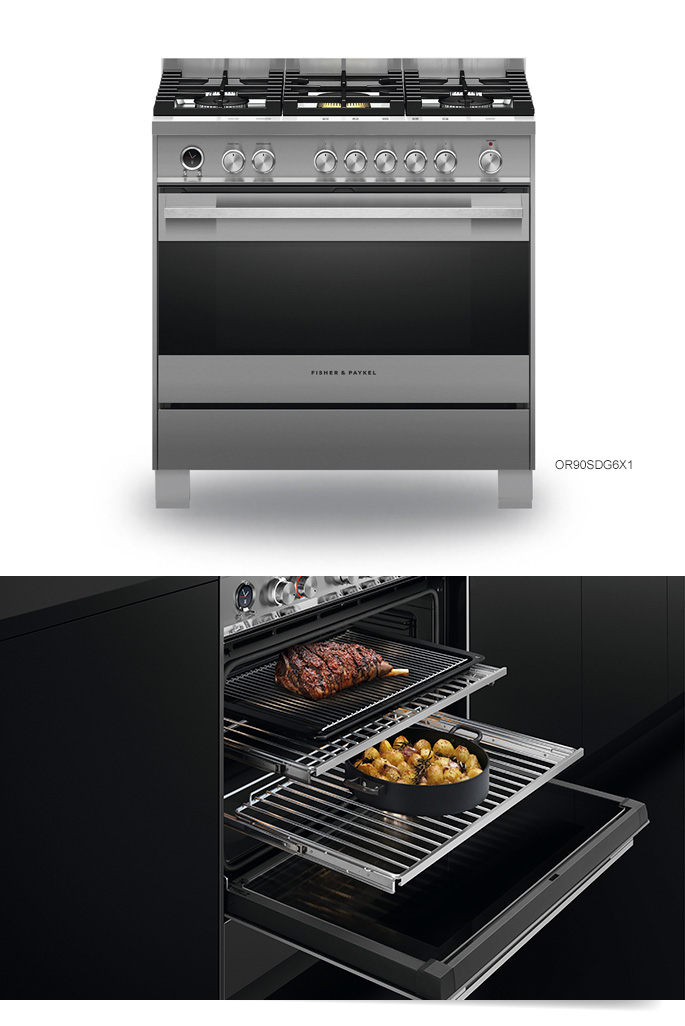 Pricing
At time of publication (April 2019) the Fisher & Paykel Contemporary models are priced at
£2395
(
OR90SDG4X1
) and
£3295
(
OR90SDG6X1
), with the Classic at
£2595
(
OR90SCG4B1
) and
£3495
(
OR90SCG6B1
). Naturally there is a superb collection of hoods, refrigerators and other appliances, all executed with the same panache, and when you order through Rangecookers.co.uk you will receive a nice discount on any additional items.
With a great reputation across the globe, Fisher & Paykel made their name with their innovative dishwasher and refrigerator drawers, but have always had much more about them than that. Their beautiful cooking, cleaning and cooling appliances are all as eye-catching as they are desirable, and the company's culture of open innovation ensures that there is some very creative thinking behind the sleek and deceptively simple facias. Design integrity is about more than great looks, of course, and you can be certain that when you invest your hard earned cash in a Fisher & Paykel appliance it is money very well spent. These superb range cookers have raised the bar for this fascinating manufacturer and are already proving a big success. Whether you are a customer already in the know or are new to the brand these are cookers to built to impress and to enhance both your life and your home.