First Class Britannia Deliver Next-level Service
Many people dream of owning a Britannia range cooker - it is after all a highly regarded premium appliance. Should you be lucky enough to be ordering one you can now be assured of a premium delivery service too, as Britannia have refined and improved the process of getting your Britannia range up and running.
A Britannia range cooker is a wonderful thing - a cooking appliance that exudes quality and attention-to-detail, performs as beautifully as it looks, and feels solid as a rock. The team behind this special brand believe that the attention-to-detail begins pre-sale and continues through the delivery process and, indeed, for the lifetime of the product. If you purchase a Britannia you will now benefit from a complimentary first-class service experience which includes delivery, installation, one-to-one product demonstration and even removal of your old appliance. Not only that, you are given the option of becoming a
Britannia Life
member where, in addition to getting a free range cooker care pack, you will receive communication with bespoke recipes, offers and tips on getting the most out of your cooker.
Britannia Delivers on All Fronts
Britannia recognise that even the best of products can be let down by a poor delivery, so this focus on the customer experience is great to see, and really does underline the passion behind this wonderful product range and the company's desire to do things right. Designed in Britain and built in Italy, the brand is defined by the flagship
Delphi
collection, supported by the cost-reduced
Q-Line
. Both offer superb build-quality and identical cooking prowess, including features like QUICKSTART fast preheat ovens, meat probe cooking (Delphi), triple-glazed doors, rotisserie, powerful 5kW dual control wok burners. Metal control knobs, heavy-gauge oven shelving, telescopic runners and grill pan, plus individual cast iron pan supports and soft-close storage drawers (Delphi) all add to the reassuringly premium feel.
The elegant simplicity and crisp contemporary nature of the Britannia Delphi, in a choice of gloss black, cream, red or brushed stainless steel, makes it a stunning addition to any kitchen, and there is an optional plinth kit available if you prefer a more integrated look, as well as extra high legs if you need them (not compatible with plinth kit). The cost-saving Q-Line is cosmetically very similar, but with plastic controls and a storage compartment with flap door rather than a drawer, and although the triple-glazed ovens are the same the stay-clean oven liners and telescopic runners are not included. Although sensible savings have been made in these areas, the cooking features and performance are the same as the Delphi (with the exception of the meat probe), and the Q Line is available in dual fuel 90 and 100cm formats only.
To complement your range cooker there is a selection of premium cooker hoods and splashbacks, as well as accessories like additional telescopic runners, griddles, wok support or stay-clean liners. A selection of rigid hood ducting (round or flat) is also available to ensure optimum extraction efficiency.
Colourange
As if there were not enough reasons to order a Britannia, if you have particular eye for style then you can specify any colour you like (even metallics like copper, gold, etc) with Britannia's Colourange service. Use a colour code or send them any sort of sample or image and they will send you a swatch for approval before finishing your bespoke range. A fee will apply, naturally, but £895 is a small price to pay for perfection!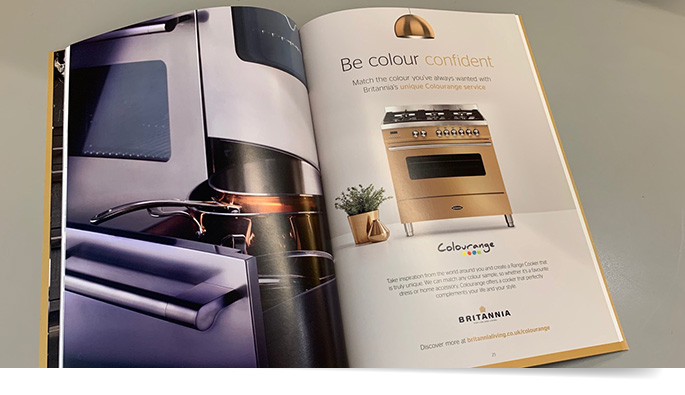 Owning and using a Britannia has always been something rather special, but it is good to see the brand recognising the need for a white-glove delivery process to match. These cookers, after all, are not inexpensive (currently £1895 to £4795*), and the feel-good factor needs to be there from the outset. If you like the sound of it all we recommend you take a closer look - you can be confident that Britannia delivers all the way.

*May 2019