Falcon Ranges in New Fawn Enamel
Falcon have added a seventh finish to their Falcon 900 Deluxe, 1000 Deluxe and 1092 Deluxe collections. The new Fawn colour is a useful shade designed to be warm yet neutral, and allows owners to match it with a broad variety of kitchen finishes.
A Solid Choice
Falcon's enduring look is one of solid simplicity which, coupled with a powerful and efficient specification, continues to appeal to serious cooks who love the straightforward no-nonsense approach and the generous cooking capacities on offer. The colours available range from the traditional Cream and Black (with a choice of either chrome or brass trim) and Stainless Steel, to Ice White, French Blue, Cherry Red and an attractive matt-finished Slate. Fawn may not be an exciting addition, but it has been cleverly selected as a sensible finish which already looks very at home in the collection and should prove a versatile choice for may customers. On dual fuel models you even get a choice of matt or gloss finish on the sturdy cast iron pan supports. Prices range from
£3395
* to
£4295
* including VAT and delivery.
The Falcon 1092 in Fawn - warm yet neutral and a useful new shade for Falcon customers
Step Up to a Falcon Range Cooker
The Falcon brand takes Aga-Rangemaster's standard platforms and cavities and turns them into a satisfyingly robust and very purposeful range of cooking appliances. Thicker steel, heavy-duty oven furniture and more powerful five burner gas hobs (or induction if you prefer), and a handsome aesthetic which is equally at home in a traditional or a contemporary kitchen - you get what you pay for and Falcon justifies its price-point very well.
Matching Falcon Hoods
To complete the look you can choose a Falcon Super Extract Hood or flat-style Contemporary Hood in Fawn. As you would expect, Falcon hoods offer great build quality and performance and are a perfect pairing.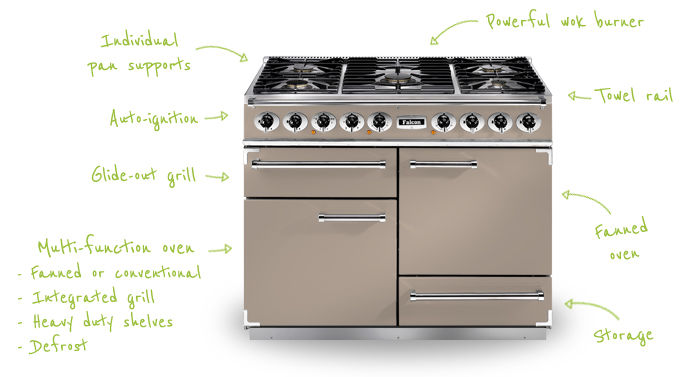 Falcon's robust no-nonsense build quality offers serious home cooks a very focused, premium range cooker
Click a Model for Full Information:

*Prices correct as of June 2016