The Britannia Montana - Classy SxS Refrigeration in Four Colours
A truly American refrigerator is a rare thing amongst so many "American-style" competitors, but the latest product launch from the well-respected and prestigious Britannia brand can claim convincing US credentials as although it is designed by Britannia it is built by GE, an American company renowned for quality and integrity. The Britannia Montana is consequently a very class act, with an impressive food storage capacity and some nifty and economical features. Even better, it comes in a choice of colours to suit Britannia's impressive 2013 range cooker collection or blend beautifully with your existing kitchen scheme.
The Britannia Montana is fully-wrapped in a choice of three gloss colours or stainless steel, all with stainless steel trim
Britannia Montana FFMONTANAS in Stainless Steel
Britannia Montana FFMONTANAB in Gloss Black
Britannia Montana FFMONTANAC in Gloss Cream
Britannia Montana FFMONTANAR in Gloss Red
Great on the Outside
The Montana's GE underpinnings are a sure sign that this stunning-looking side-by-side will prove an accomplished and reliable performer worthy of it's well-earned Britannia badge. Externally, Britannia have made sure the Montana looks superb, and whichever finish you choose - whether it is the glossy Black, Cream or Red finishes or the brushed stainless steel - will be fully-wrapped around the side and top panels as well as the doors, and even extend to the plinth. Elegant and straightforward stainless steel t-bar handles and an attractive bevelled dispenser surround with rounded corners add up to an understated but very tasteful and appealing facia typical of the Britannia brand.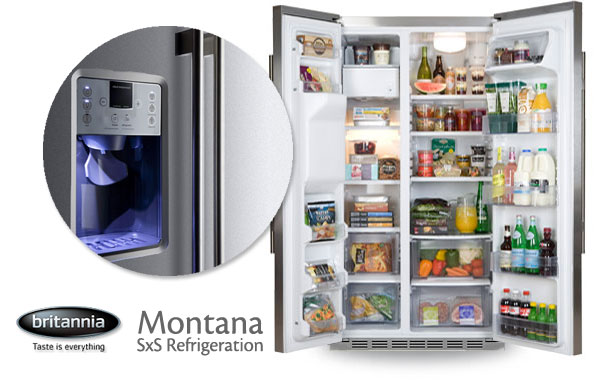 With 651 litres of capacity on offer, and some very nice features, the Montana is designed to impress
to see full spec of the Britannia Montana
Cool and Collected on the Inside
At 651 gross litres (23 cu. ft.) there is plenty of room for your precious food, with 450 litres (15.87 cu. ft.) of refrigeration space and 201 litres (7.13 cu. ft.) of freezer storage. A+ energy rated and completely frost-free, the Montana includes some thoughtful features like ClimateKeeper air tower and MultiFlow air system and humidity crispers, designed to prolong your food's life and preserve its nutritional value for as long as possible. The freezer includes Frost Guard technology to cleverly super-freeze your food before a defrost cycle to prevent freezer-burn, and a brilliant Sweetspot shelf designed to keep ice cream at a ready-to-eat temperature. In the freezer door there is a very handy ice and water dispenser (choose cubed or crushed ice) fed via the internal water filter, plus a control panel to monitor temperature or even lock the doors. Another superb feature means that should a door be left slightly ajar (easily done) it will automatically close and seal. Additionally, although the doors have a stop position for easy loading, if they are left fully open for over three minutes an alarm will sound.
Britannia is a company very tuned-in not only to design but to the needs of their discerning customers, and the Britannia Montana is further testament to the brand's desire to deliver high quality appliances to a very appreciative market. At £2095* and with a two-year warranty, we think the Montana represents great value and will be a stunning addition to any kitchen, whether it is in a freestanding position or in an alcove. If you order with a Britannia or other range cooker you will receive a £30 discount, too!
for further details
*Price correct as of June 2013