Britannia and ILVE - Two Pedigree Italian Range Brands Compared
Two premium Italian brands always worthy of some serious consideration are Britannia and ILVE, and in this article we take a closer look at these two highly regarded and closely priced cooking platforms, which will hopefully make a decision easier if you are looking for a range cooker with quality and kitchen kudos.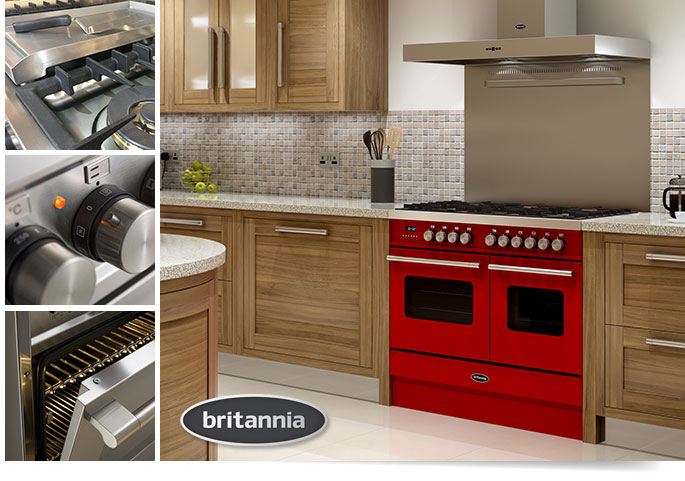 A Bit of History
It is worth pointing out at this early stage that until a few years ago, Britannia was the brand you would see on all ILVE cookers in the UK. ILVE is a long-standing manufacturer which has always sold under its own name all around the world, but in the UK it was long ago chosen to be the source for UK-based cooking brand Britannia's product range, and consequently this may cause some confusion for people who have seen these products around bearing a Britannia badge but looking like ILVE. So what happened? In 2013 Britannia was bought out by Glen Dimplex Home Appliances (who make Stoves , Belling and New World appliances in the UK), who took on the distribution and oversaw the already-in-progress change of manufacturer to a different Italian company called Bertazzoni, a premium brand in their own right but who designed the current collection specifically for the Britannia brand, with styling cues and specifications similar to the former line-up but on a whole new, modern platform. GDHA wanted a premium brand in their portfolio, but do not really have the manufacturing base these special cookers need, so remain committed to the Bertazzoni platform imported from Italy.
The ILVE collection was re-branded as such and relaunched to be sold under this name, but the products remain visually and mechanically identical to those older Britannias, albeit with some recent improvements. This is no bad thing, as these lovingly built cookers seem to have the formula just right and as a company ILVE are not open to change for change's sake - something which influenced the parting of the ways with the Britannia brand.
Brand Overview - ILVE
Built in a state-of-the-art factory near Venice in northern Italy, ILVE is a family-run business, with one very elderly family member still coming in every day to cast an eye over the tight-knit team and make sure things are still being done right, as they have been for the last 50 or so years. For the global market ILVE's product collection is vast, with so many options and styles it is quite overpowering. Sensibly this has been trimmed down for the UK market, with two main styles - the contemporary
Roma
series and the more heritage style
Milano
. Both of these also come in the very enhanced
Majestic
form, with a pronounced and more detailed heritage appearance and a greater variety of colours. These fully-featured styles are also joined by two cost-reduced entry level choices, the
Ultimo
and the
Moderna
, which offer the same cooking features but with a less costly parts list (e.g. double glazing rather than triple, storage flaps rather than drawers, wipe-clean enamel rather than self-clean liners). For the sake of this comparison we will focus on the top models. As you would expect of a brand of this calibre, these cookers are substantially built - something we at Rangecookers.co.uk notice when we come to move one in our showroom. Sturdy chassis construction with quality materials and components add up to weigh more than the run-of-the-mill mid-market brands so you know straight away that you have made a good choice. The packaging is equally reassuring, and everything is covered by a two year warranty. On larger models there are some great hob options available -
BBQ grills
,
coup-de-feu hotplate
,
deep fat fryer
- and because of ILVE's manufacturing breadth, if customers want a model or feature not normally available in the UK this is often possible, including gas ovens or even integrated microwaves on some models. A
bespoke colour matching
service is also available. Call us on
01244 402975
to enquire.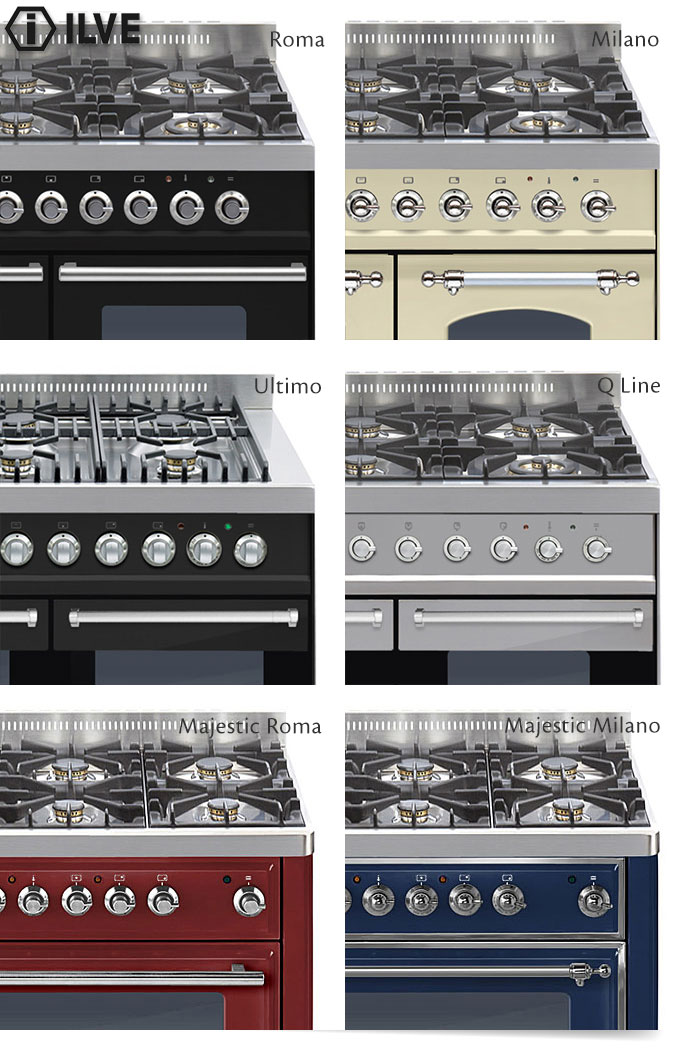 Brand Overview - Britannia
A more focused collection built especially for the UK market, the Britannia line-up has fewer variants but as the project brief took the ILVE product as a starting point there are many parallels and some visual similarities. The manufacturer, Bertazzoni, has been in the cooker business for over six generations - a family concern highly regarded across the world and renowned for the quality and integrity of its beautiful cooking appliances. Based in the Emilia-Romagna region of northern Italy, the factory is surrounded by an amazing blend of rich food culture and incredible industrial creativity. Like ILVE, the Britannia collection has two main styles, the contemporary
Delphi
and the heritage style
Fleet
, supplemented by two cost-reduced entry-level styles called
Q Line
and
Stanza
. These offer all the cooking features of the top models but in a simplified form, with double glazing rather than triple, plastic controls rather than metal, flap-door storage areas rather than drawers, enamel rather than self-clean linings, etc. Taking the Delphi and Fleet, like ILVE these range cookers are built well and heavy to move (always a good sign) and come very well packaged, with a two year warranty. The lack of product breadth and hob variety compared to ILVE is apparent, but not everyone wants this much choice. In use, everything feels solid and reliable as you would expect from a premium brand at this price-point. Like the more limited ILVE range, a great range of complementary splashbacks and hoods is available so you have plenty of choice. Another great feature available to Britannia owners is a
bespoke colour service
, where you can match your cooker to any shade (ILVE also offer this).
The Nitty Gritty
Taking 100cm six burner dual fuel Britannia Delphi and ILVE Roma models as an example, unsurprisingly, given the above, these cookers bear some close similarities. Style-wise, the differences are in the design of the metal control knobs and minor details and this comes down to personal preference. On top, both use
individual pan supports
(i.e. one per burner), but for the hotplate Britannia's more up to date approach gives you a single pressing with three spill areas, whereas ILVE still use a fabricated approach with screws and seams in the corners of the spill recesses - not necessarily a problem, but worth noting. ILVE's
gas burners
are technically superior to Britannia's, though - better overall engineering - but offer two 4.3kW triple ring wok burners (down to 1.7kW) to Britannia's two 5kW double ring (down to 0.48kW). Both use brass gas rings. If you want the rather useful stainless steel
Chef Top
options this will cost you a further £295 as an optional extra with the Britannia (a separate item which sits over a pan support), but is a more integrated, purpose-built model for ILVE, costing a further £200 and giving you the additional pan supports to convert this area to a long fish kettle burner when needed.
| | | | |
| --- | --- | --- | --- |
| | | | |
| Shelving: | | Heavy Duty | Standard |
| Telescopic Shelves: | | 1 set included. £130 additional | £205/£215 option |
| Chef Top: | | £295 option | £200 model-specific |
| Plinth Kit: | | Not available | £175 option |
| Extra-high Feet: | | £120 option | £125 option |
| Wok Burners: | | 5kW double ring | 4.3kW triple ring |
| Wok Support: | | £50 option | £45 option |
| Induction Zones: | | Five (90, 100 & 110) | Five (90), Six (100) |
| Rotisserie: | | Yes (90, 100, 110) | Yes (90, 100, 110, 120, 150) |
| Stay Clean Liners: | | 4 walls (Delphi, Fleet), or optional | 3 walls (Roma, Milano), or optional |
| Oven Tech: | | QuickStart, Meat Probe (Delphi) | QuickStart, 300° E3 Tech |
| Installation Service: | | Yes | No |
Oven capacities
are virtually identical across the various sizes, with ILVE's being marginally greater. Inside, the Britannia does score well with heavy-duty oven
shelving
which makes ILVE's standard gauge look rather inferior. Function-wise, both offer the same versatility, including a
QuickStart
function to get the main oven to temperature very quickly. However, ILVE recently introduced their
E3 Technology
, which takes the maximum temperature up to 300°C (superb for bread, pizzas etc.) against Britannia's 260°, and gives you precise digital temperature setting rather than rotary. On Britannia's side they offer a
meat probe
on Delphi models, allowing you to cook to a target temperature rather than a given time, taking the guesswork out of it. Both brands give you a
rotisserie
in the second oven, and on the top models
catalytic oven liners
on side and rear, with Britannia adding roof liners too. Both brands use
triple glazed doors
(double glazed on entry-level models) with good quality hinge systems, and the ovens run quietly and efficiently as a result. The
storage drawers
both operate on smooth telescopic runners, with Britannia having a pleasing soft-close action (soon to be added to ILVE models). Both offer
extra high legs
as an option, and ILVE offer a
plinth kit
to conceal the standard legs should you prefer.
60cm
70cm
80cm
90cm
ILVE:
Roma, Milano
Roma, Milano
Roma, Milano
Roma, Milano
Moderna, Ultimo
Britannia:
Delphi

No

No
In our experience customers may well gravitate to one of these brands or the other based on the cosmetic differences, preferring ILVE's established, familiar and slightly idiosyncratic look to Britannia's cleaner but more up-to-date look (or vice-versa). Taste and brand familiarity aside, it has to be said that both of these excellent brands offer very similar rewards for a very similar price and it's a tough one to call. Anecdotally, we hear that many established Britannia retailers have been cynical about the new Britannia collection and in our opinion ILVE does have the edge when it comes to overall integrity, but whichever you decide to go with you will be getting a top-notch premium Italian range cooker which will delight and reward you for many years to come.