The Britannia Fleet Collection - Premium Elegance, High Performance
Looking for a range cooker with a touch of character can lead you towards several options, with varying degrees of traditional flair. One well-balanced and very well-appointed series is the Britannia Fleet - a tasteful heritage-style offering from a highly desirable brand renowned for quality and refinement.
The nice thing about the Fleet is that it does not overwork the heritage detail. An earlier version proved a little too fussy for UK tastes, so Britannia have pared back the finials and ditched the matt finishes in favour of the current and much more agreeable style which puts on a more restrained face. The defining detail of the control knobs and door handles is simply done in a timeless Georgian style which, in combination with the arched windows, adds a pleasing period feel rather than something reminiscent of the Palace of Versailles. These ranges may be built in Italy, but the brand is owned and run by a British-based company who understand the UK market very well.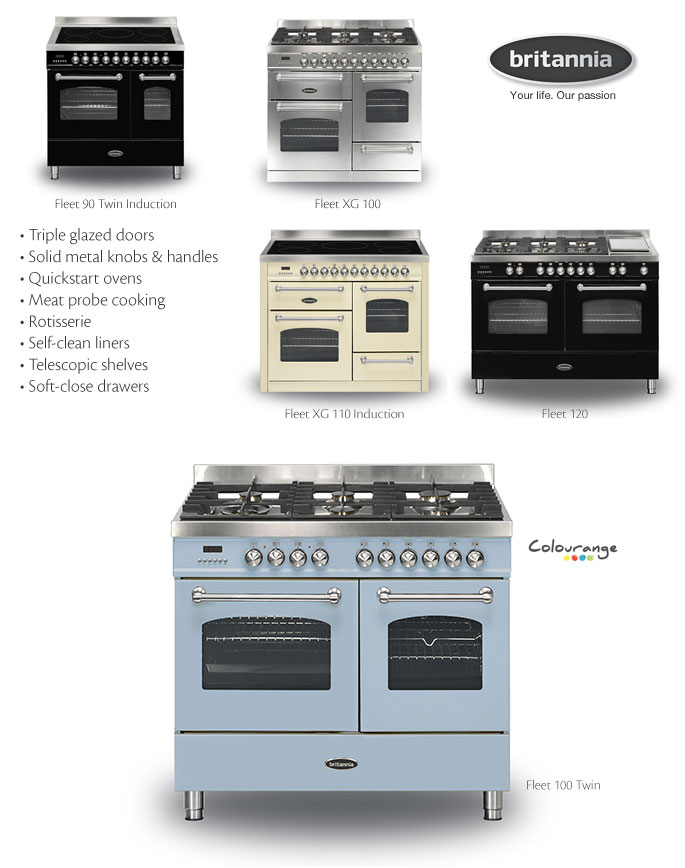 Sizes, Finishes and Pricing
Other than its cosmetic differences the Fleet series is identical to the more contemporary Delphi series, with prices currently ranging from
£3600 to £5300
* for standard colours, and with a feature-rich spec list designed to make owning, cooking and cleaning as delightful as possible. Available in 90, 100, 110 and 120cm widths and in three classic gloss finishes - Stainless Steel, Black or Cream or, if these do not float your boat, any colour you like using Britannia's excellent
Colourange
service. Just specify your colour with a paint code, swatch, tile or anything really and they will send a sample for you to agree to before preparing and delivering your bespoke range cooker - and a hood to match if you like! Call us on
01244 402975
to enquire.
Top-end Specification
Your Britannia Fleet will give you quiet and efficient triple-glazed ovens with a nine function main oven (four on the second oven) including a handy Pizza setting, and QuickStart, a very convenient way to get your oven to temperature rapidly, plus self-clean oven linings and removable enamelled roof liners to help keep things civilised. One set of telescopic shelf runners is included, with additional pairs available, and the shelves themselves are unusually heavy-gauge - a testament to the emphasis on quality this premium brand understands so well. In the main oven you can plug in the supplied Meat Probe, then set your target temperature for meat and poultry to alert you to the moment of succulent perfection - so much better than using the timer, with consistent results every time. Another excellent cooking feature, a Rotisserie, also features in the second oven on all but the Fleet 120 model.
On top you have a choice of six burner gas hob or five zone induction, except on the dual Fleet 120 which is dual fuel only. The gas hob is pressed from a single piece of stainless steel, so no awkward seams or screws, with individual cast iron pan supports to make cleaning rather less of a strain. Also available is the Chef Top, a superb high quality griddle plate made from heavy gauge stainless steel, which sits over the two central burners and is fantastic for full-on frying, omelettes, stir fries, pancakes or more subtle teppanyaki-style cooking - an invaluable asset you will use more than you think. Awesome cooking power is available via versatile dual control, 5kW wok burners (TWO on 100cm models, one on 90, 110 and 120), giving you all the sizzle-action you need for wok cooking and for bringing a pan quickly to the boil. The special dual control turns this impressively powerful burner into a gentle 0.48kW simmer burner when you need more subtle heat for sauces and simmering.
If gas is not for you then you can choose an induction model with five powerful and responsive induction zones to give you slick and impressive cooking performance and the ease and simplicity of a wipe-clean ceramic surface. Fast to the boil and down to a simmer in an instant, induction stimulates heat directly in the pan itself whilst the hob surface only gets moderately hot, so it is not only a pleasure to cook with but it works efficiently, comfortably and safely, and features handy things like pan and boil-dry detection and a child safety lock.
Matching Appliances and Accessories
As you would expect Britannia do provide a particularly superb collection of cooker hoods to enhance both the visual and the cooking experience, so do not forget to take a look and include one when you order (a pack discount is always available). If you want to complete the look and create a real impact, a Britannia splashback should also be on the list, and there is even the excellent Montana side-by-side American fridge-freezer in matching colours for a really cohesive kitchen. The list of optional extras includes additional telescopic shelves and a plinth kit should you prefer a more linear look, plus extra high feet should you have a non-standard worktop height.
Whichever model you choose, the Britannia Fleet is a refined and highly competent friend to have in the kitchen. Its understated and elegant good looks have been carefully crafted to look very at home in any classic, traditional or shaker-style setting where it will not only provide a stunning focal point but provide you with many years of quiet, strong and faithful service. This is a thoroughbred range from a great stable and we recommend you take a closer look. It is an investment you will not regret.
*Prices as of June 2017