Bertazzoni Master Series 100 - New Formats Offer Even More
Bertazzoni have launched much anticipated 100cm versions of their Master Series range cooker, previously only available as a 90cm model. Great news for lovers of the brand and for people looking for a new cooker with great credentials and more chutzpa than most.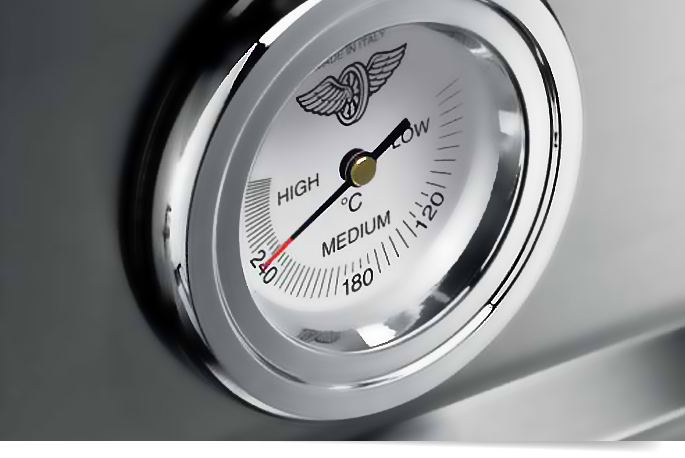 High Manufacturing Values, Great Product Value
Bertazzoni is one of the most prestigious cooking brands coming out of Italy, and is a brand synonymous with great food and great engineering, based as it is in Parma in the Emilia Romagna, a region famous for both. A big hit with UK cooks, the characterful Bertazzoni Master series offers something a little different, with its perky Italian persona and cappuccino bar styling. The Master Series may be the entry level for this famous and historic Italian brand, but the quality and great specification, in addition to its appealing looks, makes it well worth a second look. All models include at least one 2.28 to 5kW wok burner with a dual controls - an unusually powerful and flexible feature at this price point - which allows you to control the inner and outer rings independently or together. The control knobs are chunky and purposeful, and have a tactile rubbery feel reminiscent of professional cooking appliances. The control panel also features a circular temperature gauge for the main oven, which is a useful touch and does much to mark these cookers out as something different, as well as adding to the visual appeal. All ovens are A-rated and double-glazed, and from May 2015 all Master Series models now will include a full width storage compartment with a drop-down flap door. In addition to stainless steel, you can choose from three matt finishes - Black, Burgundy or Cream - all applied at the nearby specialist paint facility also used by Ferrari. A stylish louvred stainless steel plinth kit is also available should you prefer a more integrated look.
Master Series 90
The Bertazzoni Master Series 90 is available in either a single cavity or a dual cavity format, the former Master Series 90 Single having an impressive 108 usable litre multifunction oven capacity, which is larger than most single cavity cookers. The more popular dual cavity Bertazzoni Master Series 90 Twin model features a 60/30cm oven split, with a 59 litre fanned multifunction oven together with a 38 litre non-fanned multifunction oven and grill.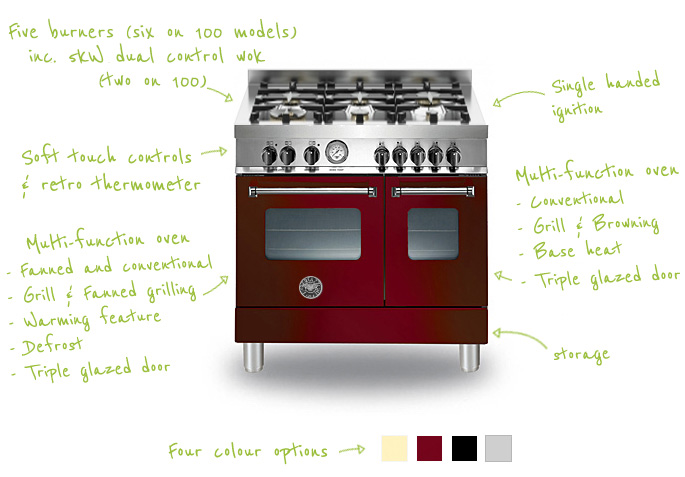 New Bertazzoni Master Series 100 Twin
The new Master Series 100 model has a more equal 60/40cm split with a 52 litre main oven and 42 litre second oven. This new 100cm format should be received very well by customers who like the flexibility of having two ovens but may find the smaller auxiliary oven of the 90cm model a little constrained. Even better, the Master Series 100 has a six burner hotplate with TWO of the rather special 5kW dual control wok burners, so you get a lot of premium-grade cooking power on top at a great mid-range price.
New Bertazzoni Master Series 100 XG
In the UK many people like the idea of a separate grill compartment, so the addition to the collection of the Master Series 100 XG (for "extra grill") is an exciting move which should open up further sales. As well as the separate grill there is a grill in each of the ovens, which are the same cavities as on the Twin model. A storage drawer with soft-close action is also provided.
Pricing and Availability
The new Bertazzoni Master Series 100 will be available to order from Rangecookers.co.uk towards the end of April 2015, with a very agreeable price tag of
£1995
* for the 100 Twin (100 XG price to be confirmed). New features on all models from May 2015. Deliveries from June 2015. Call us on
01244 402975
for further details.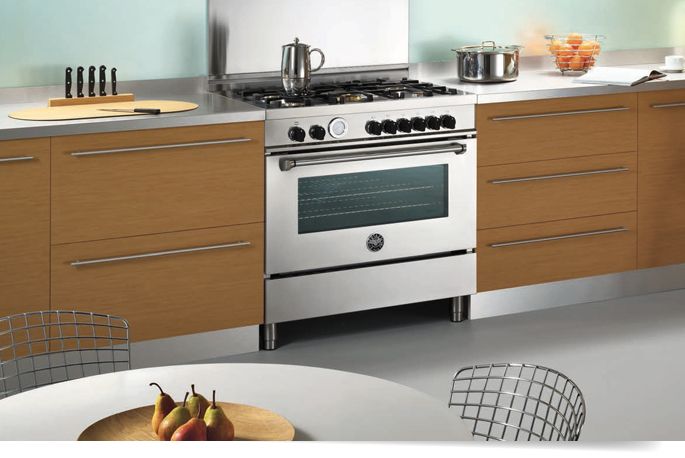 The Bertazzoni Master Series 90 Single
A real cook's brand, the Bertazzoni Master Series has always represented a great buy for enthusiastic home chefs with a sense of style, and these new 100cm models open up new opportunities for a brand which is passionate about getting things right. If you have an impending 100cm or 90cm space in your kitchen you should certainly consider filling it with one of these stylish and capable range cookers.
to see ALL current Bertazzoni range cookers
*Prices correct as of April 2015