The Belling Sandringham 100GT LPG - a Modern LPG Range Cooker
With fewer and fewer LPG range cookers on the market it is very good to see that Belling has no plans to abandon these important customers and have now launched a new 100cm range built specifically for bottled gas - the Belling Sandringham 100GT LPG.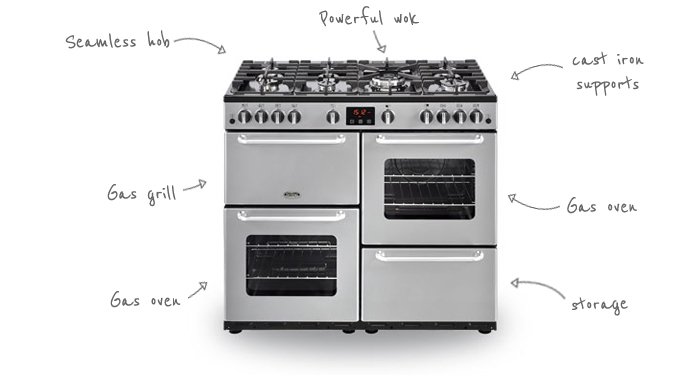 The Sandringham replaces the aged Country Classic 100GT LPG, which was a rather old-school affair based on a chassis construction going back a couple of decades. The replacement brings things nicely up to date on a brand new platform, with an enamelled gas hob pressed from a single sheet of steel and Belling's recently introduced touch display timer, which acts as a minute minder on this model. With the Sandringham 100GT LPG (model code 444444120) you get two 49 litre gas ovens, one with a slow cook feature, and a 24 litre gas grill, plus a storage compartment with drop down door. The hob includes a powerful 4.0kW wok burner - more powerful than most at this price and more, with cast iron pan supports. The control panel includes a separate ignition button and oven light switch, and on the doors simple U-shaped tubular steel door handles keep the facia fairly neutral and adaptable.
The Sandringham 100GT LPG features seven burners, including a superbly powerful 4kW wok burner
Other LPG Range Cookers
If you are using LPG and do not have sufficient electrical power to run a convertible dual fuel cooker (or simply prefer the all-gas format) the options are increasingly limited, unfortunately. You will find a complete list of whatever is currently available on our retail website
HERE
, or for a fuller synopsis see our earlier blog article
HERE
. The experienced Rangecookers.co.uk team is happy to answer any questions you may have on
01244 402975
.
The Sandringham 100GT comes in silver only, thankfully a colour flexible enough to go into most kitchens without a problem, and its generic look will suit traditional or modern kitchens. If you are looking for a reliable LPG range cooker at a reasonable price, thanks to Belling this new Sandringham should be ideal, and at £995 (Jan 2017) it ought to do very well.