Belling Ranges - Sales are Booming!
As 2016 drew to a close, Belling revealed to the industry the project they had been working on tirelessly – their new range cooker platform. Belling has proven a firm favourite with the British public for over a century, and continue to develop their product range to improve quality, features and appeal, whilst staying well within their family-friendly price bracket.
Having now released the traditional
Farmhouse
and contemporary
Cookcentre
, Belling has proved that you don't need to pay premium prices for fantastic products. The feedback from our customers has been wonderful and these have truly proven to be very popular new models.
The Belling Farmhouse 100 brings reliable country character into your home at a sub-£1000 price
Two Distinct Styles
The new platform brings slicker usability, with a refined feel and two fresh new looks – the sleek, striking
Cookcentre
which will find a happy home in any modern kitchen, and the
Farmhouse
which harkens back to the more traditional Rayburn and Aga ranges, with softer lines and neutral tones. Both styles are available in 90, 100 and 110cm widths, with gas, dual fuel and electric formats in each, including a choice of radiant ceramic and induction hobs. Although the Farmhouse and Cookcentre look very different, in practice they are exactly the same – Belling have kept their internal functions and hob identical, but simply adapted the aesthetics to suit different styles. And they are offering these new models in the classic colours their customers love – sharp Black and Stainless Steel for the Cookcentre, and Cream, Black or Silver for the Farmhouse, as well as some more strident shades from their Colour Boutique palette.
The Belling Cookcentre 100 in Stainless Steel - all black or all-stainless Professional models are also available
All-round Improvements
As well as improving aesthetics, Belling has focused intently on upgrading the attention to detail on their appliances. For example, originally the cast iron pan supports were flush with the fascia, but as this could cause larger pans to scratch surfaces, the pan supports have been raised so this is no longer a worry. In addition Belling have added more powerful wok burners and touch-control timers - a nice touch, if you will. Some enhanced Deluxe models have been made available to a limited number of retailers (including Rangecookers.co.uk, of course). These feature multifunction main ovens, and the grill cavities also double as an oven!
Sharp contemporary looks and improved features characterise the Belling Cookcentre collection
Easy Clean Gas Hobs
Arguably one of Bellings best recent features is that of the one-piece hob. This means quite simply that the hob is pressed from a single large sheet of metal. Over the years, the most effective way to construct a hob has always been to firmly screw individual pieces together, but this could sometimes lead to seams, grooves and exposed screw heads which proved to be extremely difficult when it came to cleaning. Even the most meticulous cleaners struggled. However the one piece hob is a breath of fresh air – no matter how much oil spits out of your wok or frying pan, a simple wipe down is all that's needed – and it makes cleaning up that much quicker! And if you're unfortunate enough to spill soup or sauce, they will be neatly contained by the spillage wells. Again these are all part of the one piece of sheet steel, which has simply been formed to stop liquids spreading to other burners.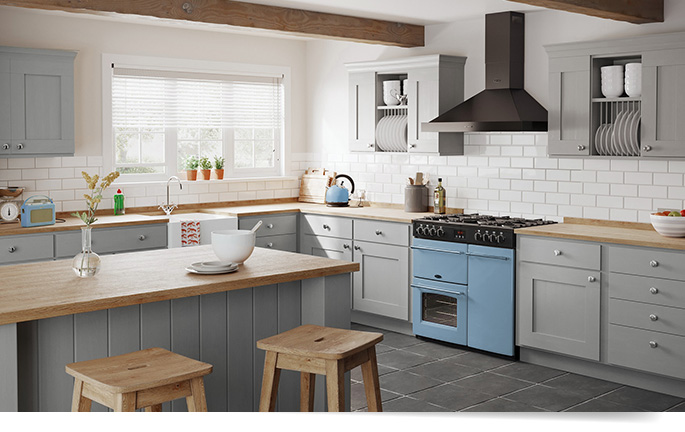 For a little extra, the Belling Farmhouse also comes in some appealing Colour Boutique shades, like this Farmhouse 90DFT in Days Break
We think these new Belling range cookers are a great step forward – the designers have listened to feedback from their customers and improved further on their already impressive ranges. When we look at their success over the years, it is little wonder Belling has become one of Britain's favourite brands! So if you're thinking of getting a nice quality new range cooker and don't want to spend a fortune – you need look no further than Belling. Long may it continue.