Belling's Fresh New Look for 2013/2014
Belling have tweaked their image, with a new look to their PR material, brochure and website. A bold new "Behind Every Great Meal" slogan replaces their previous "Think of Everything" strap line, and a lovely Duck Egg Blue provides a nice backdrop to a fresh and light presentation. The traditional Belling logo remains untouched.
Clever Strap-line
Belling is evidently one of the most memorable brands in Britain, and their good quality, sensibly-priced cooking appliances are very popular as a result. The clever choice of new slogan not only reassures us that Belling are there as a stalwart support to our everyday cooking needs, but also invites the confident response "…is a Great Cooker". Certainly stronger than "Think of Everything", and arguably better than sister-brand Stoves' "Make a Statement".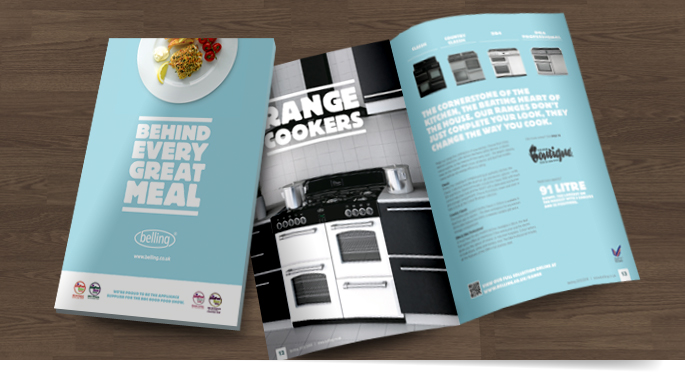 The new overall look suits the Belling brand nicely - very accessible, clean and youthful - and the choice of light blue also hints at the recent launch of the rather beautiful Belling by Sebastian Conran collection of built-in appliances (
see here for more
). Although we are not too convinced by the prolific use of Flintstone-esque upper-case typography, we can see that the aim was to deliver a simple message in an uncomplicated way, and this has been successfully achieved.
Great Product Range, Consumer-friendly Prices
Whether you are in the market for a built-in oven or hob, a small freestanding cooker or a solid and reliable range cooker, Belling's current product range is looking like a very good option. British-made, every appliance has a good basic specification and a reassuringly nice feel. Elegant, modern design and traditional cooking values are combined to give Belling customers exactly what they need and have come to expect from a brand which has been serving budget-conscious UK families very well for a hundred years. The pitfalls of buying cheaply are all too obvious, but Belling's starting points of around £1000 for a range cooker or under £300 for an oven are a comfortable spend for the more discerning.
The new look suits Belling's position in the market very nicely, and the accompanying 2013/14 brochure and website's straightforward delivery and appetising use of food imagery sits well on the palette, as does the Belling product line-up. The union jack splashbacks may prove to be an acquired taste, but we cannot but approve of a little flag-waving from this proudly British name.
for Belling ranges,
HERE
for ovens and
HERE
for smaller cookers