Belling Cookcentre Deluxe 90 vs Stoves Sterling 900
As range cooker enthusiasts we are probably more excited than most when a new product range appears, so the launch of the new Belling Cookcentre series has caused something of a stir here at Rangecookers.co.uk. Here we helpfully compare the uprated Farmhouse Deluxe model to its close cousin the Stoves Sterling.
The new Belling Cookcentre series is very impressive, and the designers have been keen to continue to give customers a well engineered, solid feeling contemporary cooker for a family-friendly price. The new cookers are more evolved, with more powerful 4kW wok burners on dual fuel and gas models, see-through glass doors on 90cm tall oven models and touch control panels on all. Along with some bold modern styling this all represents a good step forward for this important mid-priced brand and is going down very well with customers. One interesting and inspired change is the addition, available to a very few retailers, of a small selection of Deluxe models with enhanced specifications which bring the specs a little closer to those of sister brand Stoves, which is built alongside Belling at manufacturer GDHA's extensive factory in Merseyside. Stoves is the fully featured, flagship brand with a little more refinement and generally higher (but still very reasonable) price-points, and is a major rival to market-leading Rangemaster, built by Aga-Rangemaster in Leamington Spa.
90cm Model Only
Firstly, this review will only cover 90cm dual fuel model, as this is the only format the Belling Deluxe comes in, and there are no plans to introduce 100 or 110cm models. The Belling Cookcentre Deluxe 90DFT and the Stoves Richmond 900DFT should both appeal to the same sort of customer, but with a few hundred pounds between them, what are the advantages of paying more for Stoves?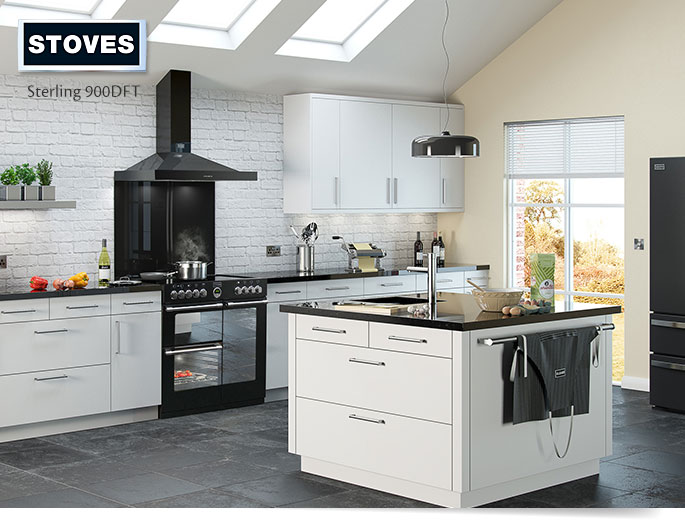 Contemporary Chic
Both cookers use a glass door construction but for us the Stoves Sterling stands out as a sleeker and more sophisticated appliance, whether in stainless steel or handsome satin black with bright detailing, with a slight mirror finish to the glass doors. The Sterling has always done well in this respect and continues to look as fresh as ever, and the Belling Cookcentre Deluxe 90DFT has a bolder appearance which brings a bit more character with it. Like the Sterling, the doors are of glass construction clad with steel, but whereas there is quite a lot of steel on the Stoves (even on the black model) there is much less on the Belling, with black rear-painted glass featuring heavily whether you choose the all black version or the "stainless steel", where you get a stainless hob and control panel, and lower door finisher. However, on the
Cookcentre Professional Deluxe
model the doors are more fully clad with stainless steel, but this cosmetic difference is all there is between these variants.
One immediate and to some, important difference is that the Belling Cookcentre has a see-through double-glazed tall oven door, whereas the Stoves is solid, with softly reflective outer glass. The Belling's plastic door handles are broad, flat and chromey, unlike the more minimalist brushed tubular steel of the Sterling, and the control knobs a fluted conical combination of black and chrome plastic. On the Sterling the knobs are a simpler and more "engineered" design, again in chromed plastic. On the control facia, the Belling's touch screen display looks bang up-to-date, but the flat and circular three button design of the Sterling's digital clock and timer is very pleasing, easy to clean and something of a feature.
Cookcentre vs Cookcentre Deluxe?
The key difference between the standard Belling ranges and the Deluxe models is the oven specification (two fanned ovens and a grill on standard spec). The Belling Deluxe has been upgraded to a versatile multifunction main oven, with fanned, non-fanned and grill functionality, and the top cavity doubles as a conventional electric oven as well as a grill. This is actually one step ahead of the current Sterling, which does have the multifunction main oven but only a grill in the top cavity. However, there are other refinements which may sway you towards the Stoves.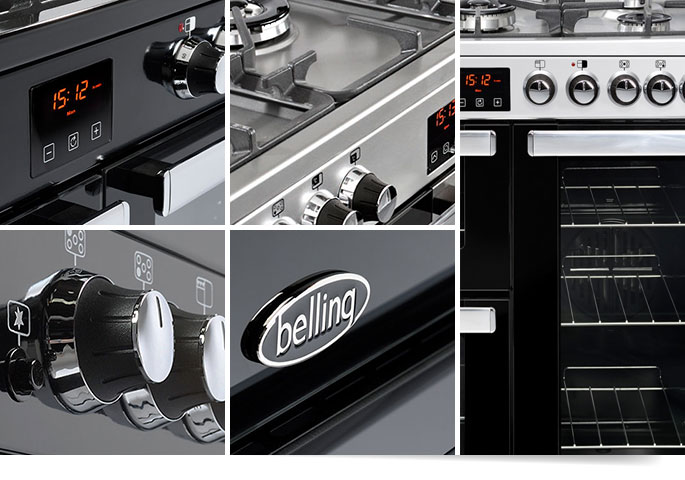 Features
Whilst the Belling has been designed to be a lesser creature than the Stoves, its more recent design means that it currently has a more powerful hob than its Stoves cousin, with a full 4kW wok burner against Stoves' 3.5kW. The designers have also acted on customer feedback by raising the top surface of the cast iron pan supports higher above the outer frame of the hob, thereby avoiding the risk of scratching. On the Stoves models the top surfaces are flush.
| | | | |
| --- | --- | --- | --- |
| | | | |
| *Current price: | | £995 | £995 |
| Wok burner: | | 4.0kW | 3.5kW |
| Pan supports: | | Raised | Flush |
| Griddle plate: | | No | Yes |
| Ignition: | | Push button | Auto (under-knob) |
| Clock/timer: | | Touch screen | 3-button |
| Tall oven door: | | Windowed glass | Steel/rear painted glass |
| Top cavity: | | Grill + conventional oven | Grill |
| Grill pan handle: | | Yes | Optional extra (£35) |
| Shelves: | | Standard racks | Telescopic (main oven) |
| Shelves (tall oven): | | 3 (£35e option) | 4 |
| Plate rack: | | Optional extra (£30) | Yes |
| Standard colours: | | Black, Black+St, Stainless (Professional) | Black, Stainless Steel |
| Warranty: | | 1 year parts & labour | 5 years parts, 2 years labour |
The Stoves Sterling gives you what is termed auto-ignition, meaning that you hold the control knob in to light a burner, whereas this is a separate push-button on the Belling. Inside the ovens there are a couple of key features you get with Stoves that you do not with Belling - telescopic shelves in the main oven, and four shelves plus a plate warming rack in the tall oven compared to just three shelves with Belling, where a rack and extra shelf are both optional extras. Also, with Stoves you also get a cast iron griddle plate for the hob as standard. Both brands give you the same easy-clean enamel oven interiors and removable inner door glass. When it comes to the warranty your extra spends also give you Stoves' 5 year parts and 1 year warranty (free upgrade to 2 years labour if purchased from Rangecookers.co.uk) against Belling's 1 year parts and labour.
Ultimately these are both great mid-market range cookers and whichever you prefer you will be very happy. If you are not concerned about the more sophisticated look, telescopic shelves and longer warranty of the Stoves Sterling and prefer the Belling Cookcentre Deluxe you will not be losing out. Recent Belling improvements aside it is important to remember that there is no difference in the quality or feel between these brands - they both come off the same production lines - it is just the spec and cosmetic differences that you are choosing between. The Stoves Sterling is being redesigned will be re-launched on the new chassis in late 2017 and will no doubt have a couple more extra features to put greater distance between the two brands. For now, whether you pay the extra price for the Stoves may well come down to how much you are drawn to its classier looks and more aspirational branding.
*Pricing as at March 2017