Ascot from Steel Cucine - Now Available from Rangecookers.co.uk
Premium Italian range cooker brand Steel Cucine are a keen cook's idea of heaven, and any cooker from their solid and impressive product range is a fantastic addition to any modern kitchen. Part of this range is the Ascot collection, a rather more traditional take on Steel's ultra-reliable platform, and well worth a closer look.
The Steel Cucine Ascot 100, shown in Le Creuset Cotton with Nickel trim
A Brand Like No Other
Steel Cucine (pronounced "
Coocheenay
" and meaning Cuisines) is something of a well-kept secret in the UK, an established yet niche brand with a very loyal following of those fortunate enough to have discovered it. Steel is a family-owned business run with extraordinary skill and passion by people who really care about the products they produce. Built without compromise, every Steel range cooker is made to last and to look stunning, and the same goes for the matching hoods, fridges, built-in ovens and modular steel kitchen furniture which feature in their beautifully presented brochure. The Ascot range cooker collection, like the more contemporary Genesi, starts with a 70cm format and goes up to a 120cm range, all giving the customer a very impressive choice of multifunction or combi-steam ovens (more of this below) and on larger models customisable hotplates with 6kW Mega-wok burners, integrated griddles, barbecue grills or even deep fryers. For those who might prefer the ease and simplicity of an all-electric hob there is a great induction hob with all the usual power and refinements.
Heritage and Character Combined with Engineering Excellence
Sitting alongside the sharper-looking Genesi collection, the Ascot introduces some heritage and character to Steel's highly competent persona using some rather more shapely and indulgent control and facia details. Control knobs are a more traditional tap-style with a heavy conical bevel, all in solid metal, and door handle-ends have a more sculpted profile. The oven programmer features a circular LED analogue clock face, and a fluted heat-shield below the controls adds to the subtle but effective heritage feel which will be very at home in a more classic or traditional kitchen whilst still presenting as a very modern piece of cooking equipment.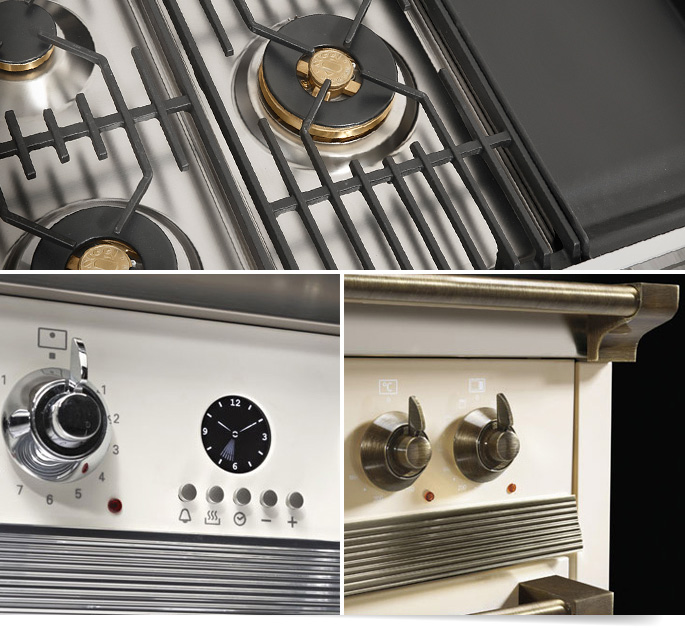 Combi Steam Ovens Available in All Widths
In addition to standard multifunction and conventional electric ovens, the engineers at Steel have pioneered the addition of Combi-steam ovens to the range cooker platform. Cooking with steam has long been known to offer significant benefits of increased flavour and nutritional value, and these ovens combine traditional heating elements with steam to allow you to reap the rewards of cooking a wide variety of foods this way (see some great recipes
HERE
). Whether you need a 70, 90, 100 or 120cm range this option is available and we suggest you seriously consider it.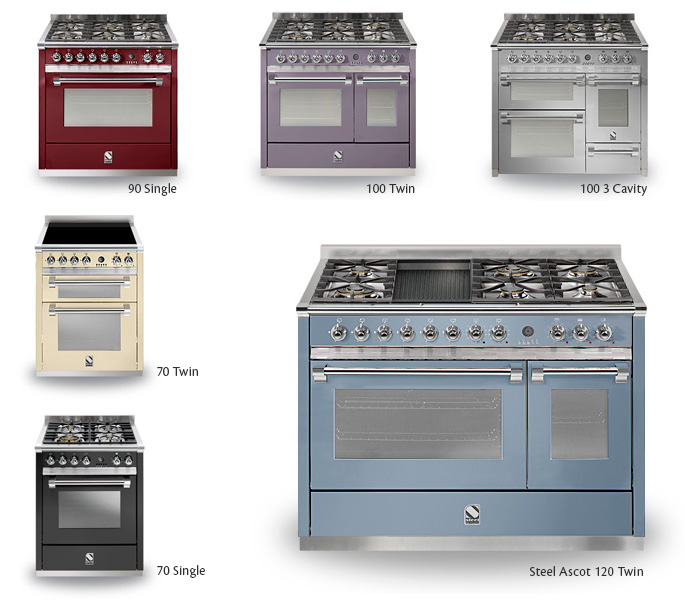 Colours and Finishes
This is where things get even more special. With the Steel Ascot range you have a choice of five standard finishes in traditional colours, or you can pay a little more for the four recently added and very appealing Le Creuset colours (matching cookware is available). To go with these you can choose from four trim finishes - Chrome, Brass, Nickel or Bronze, which allow you to add to the more homely and traditional feel or perhaps coordinate with your existing or planned kitchen finishes, resulting in an outstanding centre-piece for your home. We are still in the process of adding these finish options to our website, so call us should you need further advice or images.
Pricing
Ranging from around £3000 for a 70cm range cooker to around £7000 for the 120, Steel Cucine is certainly an aspirational brand, but we think these exceptional cooking appliances are worth every penny. You could be paying considerably more for a brand like Wolf and the quality of the product would be on par with Steel, but the breadth of the product range not nearly as impressive. Investing this much in your kitchen is clearly a decision to be taken seriously, and the Rangecookers.co.uk team is happy to talk you through all aspects of the products and the Steel Cucine brand to convey our own supreme confidence and help make your decision an easy one.
The Complete Solution
Your needs may be confined to a range cooker, with perhaps a matching hood or American style fridge (there are three designs), but if you have more ambitious plans you can indulge them all with Steel Cucine. You could really push the boat out and consider a suite of modular kitchen furniture to really make a statement and bring some astonishing integrity into the room. Superb stainless steel worktops, sinks, storage and workspace adds some real professionalism and is a world away from the run-of-the-mill units the local kitchen builder can supply. In-column modular ovens, dishwasher and fridge units are also available to provide the complete solution in a truly stunning way. Call us on
01244 402975
for further information.
It is impossible to overstate the single-most impressive aspect of the Steel Cucine brand: QUALITY. The integrity and attention to detail really is second to none. Materials, components and engineering excellence are combined with a love of food and cooking very particular to the Emilia-Romagna region where these beautiful machines are created, and the results speak for themselves. For example, the hotplate and control panel are formed from a single sheet of high-grade stainless steel - no mean feat, and no nasty seams to clean. Rock-solid construction and finger-inviting tactility continue to mark Steel out from the crowd, and the design team's visionary approach means you can completely kit out your kitchen with Steel Cucine, should you have the inclination and the budget. The price tags reflect this quality, but this stuff is worth every penny and will keep proving that year on year of happy ownership and enthusiastic use.