American-style Refrigerators - New from Stoves
If you have been looking for a new family fridge-freezer but do not know where to start, then it seems Stoves may have the answer. The Liverpool-based brand is renowned for building elegantly designed, solid and reliable cookers, and their new range of American-style refrigerators seems to bear all the right credentials as well as that rather smart Stoves badge.
Two Models, Two Colours
Stoves are offering two models - a side-by-side
Stoves SXS90
with in-door water and ice dispenser, and the
Stoves FD90
, which employs an increasingly popular barn-door-and-drawer format. Both models come in either stainless steel or gloss black, with textured silver or black side panels to ensure that your fridge looks as great as a free-standing feature as it does standing in an alcove. The styling is attractive, with bowed door and drawer handles in chrome, and LCD temperature displays with bold ice-blue digits and chrome surround. Both models are totally frost-free, which means you do not have to worry about defrosting, and the A+ energy rating is also reassuring, as is the
five year parts, one year labour
warranty.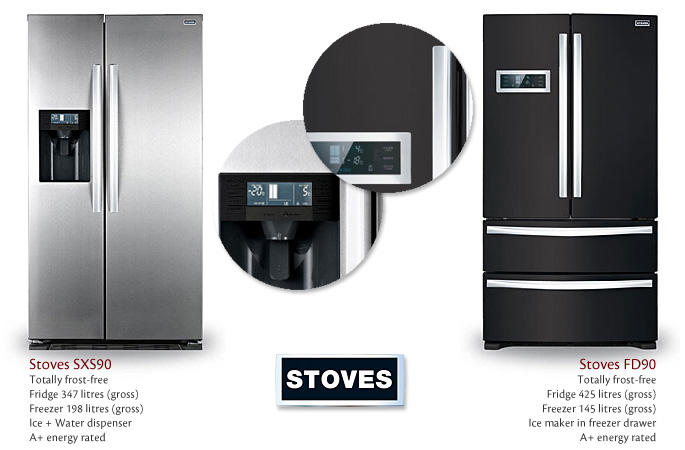 For full specification details, visit our product pages using the links below.
Stoves SXS90 -
see full specification
- £1495*
Stoves FD90 -
see full specification
- £2095
The Stoves name is a great one to have in you kitchen, carrying as it does a certain caché resulting from nearly 100 years of fine cooking heritage. This brings with it a confidence that the Stoves brand is one to be trusted when it comes to kitchen appliances, and this latest collection of large refrigeration products is certainly an appealing prospect if you are looking for a good-looking, trustworthy family fridge-freezer at a reasonable price.
to see all Stoves American-style refrigeration
*Prices shown include VAT and delivery, correct as of June 2013.