Ambassade Range Cookers Coming Soon to Rangecookers.co.uk
Something special is coming to the Rangecookers.co.uk website very soon - something which should get serious cooks and professional chefs really quite excited. Ambassade cookers are renowned the world over, and can be found in some of the best kitchens being used by some of the best chefs, and the good news is that you will soon be able to put Ambassade quality in your kitchen, and for less than you might expect.
The Ambassade BI 962 ECT - a compact 90cm range with impressive gastronomic credentials and bags of power
The Ambassade Recipe for Culinary Success
Hand-built in Burgundy, France, Ambassade is a no-nonsense professional brand which takes the underlying integrity and sheer cooking power found in Lacanche range cookers and offers it in a stripped-down, plain-speaking way which will be music to the ears of those who just want to focus on cooking. Fabricated in heavy, food-grade stainless steel, and lusciously enamelled by Swiss specialists, Ambassade cookers present a pleasingly simple face, but one which conceals a cooking machine built to last using the best components available. The result is power and impressive durability - a powerful cooker which can be called upon to excel in all situations your culinary skills may place it in. Simple, powerful burners with solid brass caps for optimum clean-burning and heat transmission; G5 induction zones which give second-to-none speed and performance; ovens which cook with true intensity professional cooks will love.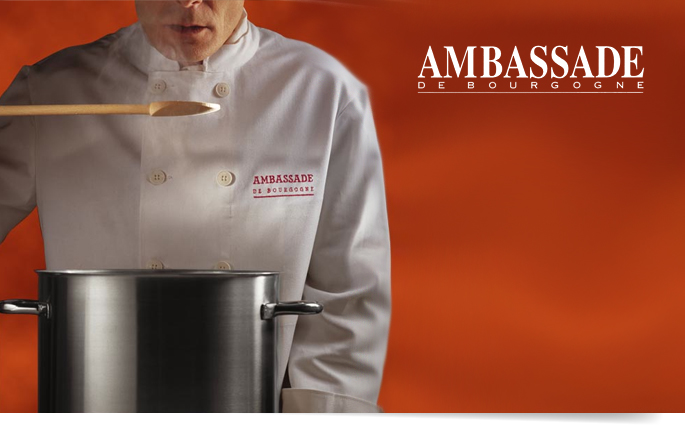 Professional cooks the world over have come to trust the Ambassade brand
A Professional Brand for the Serious Domestic Kitchen
You may not have heard of Ambassade, but you will almost certainly be aware of Lacanche. It is very true to say that Lacanche take beautifully engineered, professional-grade cooking platforms and offer them in a stunningly attractive and broad range of colours, with a choice of control and handle finishes and an amazing variety of formats. The very French appeal of a Lacanche range is not for everyone, though, and if you are someone who loves the engineering values but not the style, then an Ambassade is the cooker you have been waiting for. Straightforward, no-frills integrity delivering competence and reliability time after time. And they look pretty good, too, with high-lustre black, ivory, red or blue enamel doors, or simply in all stainless steel.
Induction models feature six of the latest generation G5 induction zones
Ambassade Range Formats
These new Ambassade ranges will be available as 900 Series and 1000 Series formats, with two ovens on 90cm models and a choice of two or three ovens on 100cm models. Five burner gas hobs or six zone induction hobs can be combined with static, convection or dual function ovens to achieve a cooking format which suits your demands.
Simple and effective - the best materials are combined with generations of engineering know-how to achieve the best results
Quality throughout - every Ambassade range exudes quality on the inside and sheer competence on the outside
These are exceptional cookers with an enviable pedigree, and we anticipate strong interest from discerning cooks. Our team is working on getting them onto our website ASAP, but in the meantime just call us on 01244 402975 for further details.