Our new arrival: the Lacanche Cluny Modern!
We are very happy to announce a new arrival at our canal side display centre!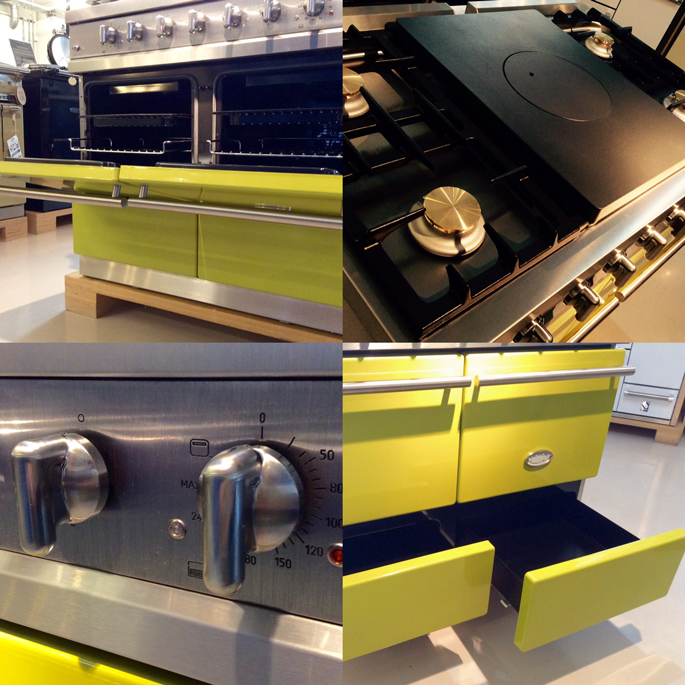 The Lacanche Cluny Modern 100 is spacious and scrupulously efficient
Lacanche range cookers are beautiful, hard working and truly reliable. In addition to the striking exterior, they boast a sturdy cooking platform.
Let's take a closer look at the appearance. This model is Anise with a brushed stainless steel trim.
The Lacanche Cluny Modern 100
is available in a range of colours with the option of chrome or brushed stainless steel trim. We have a
Lacanche colour and trim visualiser
where you can try out various combinations of colour and finish.
Lacanche uses quality enamel finishes which result in a vibrant and glowing surface. Multiple coats are applied to create a durable surface which is low maintenance and easy to clean.
The Traditional hob top features 5 burners including a 4kW burner, 2 burners of 3kW, and a gentle 1.5kW burner, plus a cast iron simmer plate which sits over a 5kW burner. The beauty of cooking with the large simmer plate lies in the ability to cook, simmer, or warm, using just the one flame. The further you move your cookware from the centre of the cast iron plate, the lower the temperature becomes – meaning you simmer multiple pans at the same time.
The Cluny has two spacious 55-litre ovens, the benefit of which means you can roast and bake simultaneously in each oven. There are also two spacious storage drawers below the ovens – ideal for keeping trays and pans out of the way when not in use.
There are a
choice of oven and hob configurations
plus various accessories available for your convenience.
We display an impressive collection of range cookers at our canalside showroom. If you are thinking of investing in a range cooker, why not visit us in Chester? We love to talk customers through the features and benefits of the various brands and models. We are open Monday through to Friday from 8.30am to 5pm.