Lacanche Macon Traditional Hob
This post celebrates the traditional hob brought to you by the Lacanche Macon! Our customers enjoy the versatility of the traditional cast iron hob, which allows you to cook, simmer or warm dishes before serving. The Lacanche Macon is capable of tremendous output when needed, but with a fast-heating small oven/grill when something smaller is required.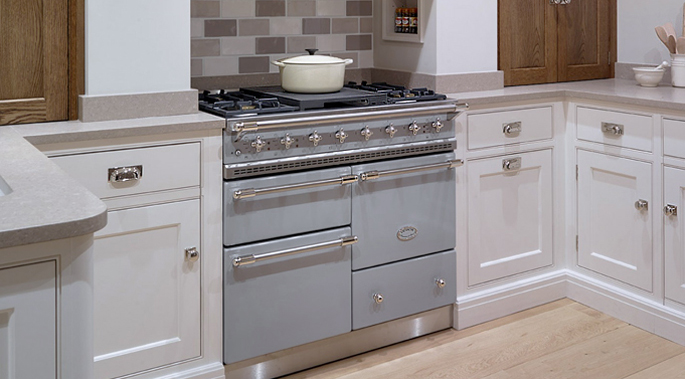 The Lacanche Macon Classic is one of Lacanche's best selling range cookers.
The Lacanche Macon has a choice of hob and oven options to ensure you get what you need to deliver some superb culinary results. In the UK, we often prefer our cookers to have a separate grill, and the
Lacanche Macon 100
accommodates this need, featuring two large ovens plus a third, 20 litre oven and grill allowing even greater flexibility. A handy single storage drawer is also included.
This particular model features a popular specification – the five burner Traditional Hob, a 55L gas oven, a 49L 2.65kW convection (fanned) oven with grill, and a 20L 2.4kW static electric oven with grill.
The Traditional hob option includes a large simmer plate which is made from enamelled cast iron.
The large solid hob diffuses heat well on lower temperatures, and can offer powerful performance with a very hot centre when turned up. Cast iron heats evenly all around its surface, thus enabling you to either cook, simmer or just keep your dishes warm before serving. The further you move your cookware from the middle the lower the temperature – allowing you to simmer multiple pans together, and just using one flame.
The centre of the hob plate can be removed using the spigot provided, to allow direct access to the 5kW flame for faster heating up, and for use of a wok. A
Wok Ring
fits into the round hole once the central plate has been removed.
The Macon is
available
in a number of colours and sleek finishes.
With chunky and lusciously chromed control knobs and handles (or brushed steel if you prefer), you can also choose from an amazing array of deep lustre enamel finishes to complement the heavy gauge stainless steel hotplate and control panel.
Also available is the
Lacanche Macon Modern
. This has the same configuration as the Classic, but has a contemporary design. The Modern features chunky, utilitarian control knobs resulting in a less decorative fascia and a sleeker door design.
The Lacanche Macon Modern 100 has been specifically designed for cooks who prefer a contemporary look.
With their roots deep in the Burgundy countryside, Lacanche range cookers are authentic and highly capable gastronomic work-horses. Solidly built in heavy-gauge steel, cast iron and solid brass, with serious performance to match, it is easy to see why Lacanche cookers find their way into some of the world's best commercial kitchens, and into the homes of the most discerning of cooks. Not just beautiful to look at, these ranges are all about cooking - purely, simply, and very capably
.